Defense Lawyer Voices Frustration As Priest Trial Jury Asks to Rehear Testimony
By John P. Martin
Philadelphia Inquirer
June 12, 2012

http://www.philly.com/philly/news/religion/20120612_Defense_lawyers_voices_frustration_as_priest_trial_jury_asks_to_rehear_testimony.html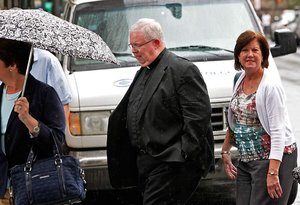 Monsignor William Lynn arrives at the Criminal Justice Center in Philadelphia for a question by the jury on Tuesday morning June 12, 2012. ( ALEJANDRO A. ALVAREZ / STAFF PHOTOGRAPHER )



A defense lawyer waiting for a verdict in the clergy sex abuse trial erupted in frustration on Tuesday morning after the jurors again asked to have more testimony read back to them.

"They have to do their job, they have to rely on their recollection," the lawyer, William J. Brennan, told Common Pleas Court Judge M. Teresa Sarmina. "We can't make a decision for them."

Brennan's outburst followed a new round of requests from jurors on their seventh day of deliberations.

The panel of seven men and five women is weighing attempted rape and endangerment charges against Brennan's client, the Rev. James J. Brennan, and endangerment charges against Msgr. William J. Lynn, the former clergy secretary for the Archdiocese of Philadelphia.

The Rev. Brennan is accused of trying to rape a 14-year-old boy in 1996. In their note to the judge, jurors asked to hear testimony that his accuser gave to church officials during a confidential 2008 canonical trial.

The complete testimony wasn't read aloud to the jurors during the 11-week criminal trial, but prosecutors had submitted the canonical trial transcript with other pieces of evidence.

Assistant District Attorney Patrick Blessington said jurors had a right to hear that testimony, just as they would any piece of evidence. "It's an admitted exhibit," he told the judge.

Brennan's lawyer was incensed, contending that it amounted to letting the priest's accuser testify anew without facing cross-examination.

"With all due respect, how many times are we going to try this case?" he said.

Sarmina said jurors would be allowed to hear that testimony Tuesday afternoon, as well as testimony from Jack Rossiter, a former FBI agent who investigated the allegation against Brennan for the archdiocese.

UPDATE 4:20: Jurors have broken for the day after listening to more than an hour's worth of testimony and sending new questions to the judge. They will resume deliberations Thursday.

A complete story will be posted later.

Contact John P. Martin at 215-854-4774 or at jmartin@phillynews.com Follow him @JPMartinInky on Twitter.