Eighth Day of Deliberations Ends with More Questions from Jury in Clergy-sex Abuse Trial
By John P. Martin and Joseph A. Slobodzian
Philadelphia Inquirer
June 14, 2012

http://www.philly.com/philly/news/breaking/159123275.html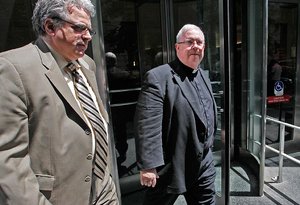 Msgr. William Lynn (right) leaves the Criminal Justice Center in Philadelphia on Thursday, June 14, 2012. ( ALEJANDRO A. ALVAREZ / STAFF PHOTOGRAPHER )



Jurors in the clergy sex-abuse trial of two Archdiocese of Philadelphia priests ended their eighth day of deliberations Thursday with a new set of questions that suggested they may be shifting their focus from one defendant to the other.

Convening for the first time since Tuesday, the panel of seven men and five women asked to see evidence related to the landmark child-endangerment and conspiracy case against Msgr. William J. Lynn, the archdiocese's former secretary for clergy.

Specifically, jurors asked for files of the Rev. Thomas Wisniewski, who remained in ministry after admitting to Lynn that he had a sexual relationship with a teenage boy in the 1980s.

The jury also asked Common Pleas Court Judge M. Teresa Sarmina for still more guidance on the conduct and intent required to find the defendants guilty of conspiracy and child endangerment.

"This is about the third or fourth time that they've asked this in various degrees," Assistant District Attorney Patrick Blessington said. "Someone — or a group of someones — is hung up on this."

The jurors have spent more than 30 hours behind closed doors since deliberations began June 1, and have peppered the judge and lawyers with 25 questions and evidence requests.

The pace of deliberations has clearly frustrated the lawyers — one reportedly smashed his cellphone against a wall outside the courtroom this week. But the judge said she was reluctant to push a jury that has not signaled any sort of deadlock.

"I don't know what process they are using; that's left to their discretion," Sarmina said. "It's the jury system. We put it in their hands."

The latest note from jurors came hours after Sarmina had denied their request to listen to a mountain of trial testimony that focused almost entirely on the case against Lynn's codefendant, the Rev. James J. Brennan.

The panel had asked to be read testimony from the 30-year-old Bucks County man who accused Brennan of trying to rape him at age 14, and from the accuser's mother. Earlier this week, jurors were read back testimony that Brennan and his accuser gave to a confidential church tribunal in 2008.

Jurors also sought to rehear testimony from a key witness in the case against Lynn, a former altar boy who claimed he was sexually assaulted in a Northeast Philadelphia church by Edward Avery. Prosecutors say Lynn endangered the boy because he failed to take steps to remove Avery from ministry after another abuse allegation.

But Sarmina agreed with defense lawyers that rereading the witnesses' testimony in this case could take days. She told the jurors they could request specific testimony "if there is some sticking point" but not retry the case.

"I know it is a long, long time ago when we started with all the evidence," the judge told them. "You are going to have to rely on your memory."

The exasperation among the lawyers grew more palpable by the hour, particularly as jurors appeared to be cycling back to areas they had asked about just after deliberations began June 1.

Among other things, they wanted to know whether a person guilty of conspiring to endanger children had to intend to commit the crime. Sarmina told them such a person does not necessarily need to intend to commit a crime or realize that such conduct would be criminal.

Lynn's lawyers, Thomas Bergstrom and Alan Tauber, weren't pleased with that response and Bergstrom, perhaps sowing more seeds for an appeal, argued that the judge's ruling was a mistake.

That's when the prosecutor jumped up and unleashed what seemed to be days of frustration.

"Enough!" Blessington yelled at the defense lawyer. "No, no, no. You sit down!"

Bergstrom asked the judge to admonish the prosecutor for a personal attack, but Blessington wasn't through. "I've seen better manners in a barnyard," he fumed, telling the judge: "He [Bergstrom] flat-out misstated the law. ... Make him shut up!"

Sarmina said nothing to either lawyer. Instead, she called the jurors back into the courtroom, and, as they had requested, sent them home for another day.

Contact John P. Martin at 215-854-4774, at jmartin@phillynews.com or follow @JPMartinInky on Twitter.