Cardinal's Aide Is Found Guilty in Abuse Case
By Jon Hurdle and Erik Eckholm
New York Times
June 22, 2012

http://www.nytimes.com/2012/06/23/us/philadelphias-msgr-william-j-lynn-is-convicted-of-allowing-abuse.html?_r=1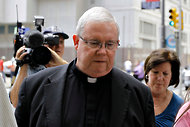 Monsignor William J. Lynn, walking into court before the verdict reading, was the first senior official of the Roman Catholic Church in the United States to be convicted for covering up child sexual abuses by priests.



PHILADELPHIA — Msgr. William J. Lynn, a former cardinal's aide, was found guilty Friday of endangering children, becoming the first senior official of the Roman Catholic Church in the United States convicted of covering up sexual abuses by priests under his supervision.

The 12-member jury acquitted Monsignor Lynn, of the Archdiocese of Philadelphia, of conspiracy and a second count of endangerment after a trial that prosecutors and victims rights groups called a turning point in the abuse scandals that have shaken the Catholic Church.

The single guilty verdict was widely seen as a victory for the district attorney's office, which has been investigating the archdiocese aggressively since 2002, and it was hailed by victim advocates who have argued for years that senior church officials should be held accountable for concealing evidence and transferring predatory priests to unwary parishes.

Monsignor Lynn, 61, sat impassively as the jury foreman announced the verdicts, but relatives behind him were in tears. Judge M. Teresa Sarmina of the Common Pleas Court revoked his bail, and the monsignor stood up, removed his clerical jacket and was led by sheriff's deputies to a holding cell area. His conviction, on the 13th day of deliberations, could result in a prison term of three-and-a-half to seven years; sentencing is set for Aug. 13.

The trial sent a sobering message to church officials and others overseeing children around the country. "I think that bishops and chancery officials understand that they will no longer get a pass on these types of crimes," said Nicholas P. Cafardi, a professor of law at Duquesne University, a canon lawyer and frequent church adviser. "Priests who sexually abuse youngsters and the chancery officials who enabled it can expect criminal prosecution."

The three-month trial cast a harsh light on the top leadership of the archdiocese, especially Cardinal Anthony J. Bevilacqua, whom Monsignor Lynn advised. Archbishop of Philadelphia from 1988 to 2003, he died in January, but his name was invoked frequently during the testimony. Monsignor Lynn's own lawyer told the jury that "in this trial, you have seen the dark side of the church."

The revelations of sexual abuse and seeming official indifference have tormented an archdiocese that was long known for imperious leaders and an insular camaraderie among its priests. It has also been costly: the financially ailing archdiocese said recently that legal fees and internal investigations spurred by the abuse cases had cost $11.6 million since early 2011.

Cardinal Bevilacqua and his aides, the prosecutors argued, sought to avoid scandal and costly lawsuits at almost any price, putting the reputation of the archdiocese ahead of protecting vulnerable children.

The archdiocese issued a conciliatory statement on Friday, saying that "the lessons of the last year have made our church a more vigilant guardian of our people's safety," and offering a "heartfelt apology to all victims of clerical abuse."

Monsignor Lynn served as secretary for clergy for the 1.5 million-member archdiocese from 1992 to 2004, recommending priest assignments and investigating abuse complaints. Prosecutors presented a flood of evidence that Monsignor Lynn had not acted strongly to keep suspected molesters away from children, let alone to report them to law enforcement.

But the length of the jurors' deliberations and the mixed verdict showed the difficulty of placing criminal blame on one church official. The jurors also wrestled with the definition of conspiracy, and with the question of criminal intent on the part of Monsignor Lynn, who presented himself as an affable man who tried his best. Nevertheless, the Philadelphia district attorney, R. Seth Williams, said Friday that the verdict had sent a lesson to the nation. "This monumental case will change the way business is done in many institutions," he said.

Monsignor Lynn's lawyers are expected to appeal.

Victims advocates said that they hoped the conviction would embolden prosecutors in other states to investigate senior church officials, and predicted that it would lead to more victim lawsuits.

"The guilty verdict sends a strong and clear message that shielding and enabling predator priests is a heinous crime that threatens families, communities and children, and must be punished as such," said Barbara Dorris, of Survivors Network of Those Abused by Priests.

But such proceedings may often be limited, legal experts said, by statutes of limitations.

The prosecutors in this case faced just such a hurdle. A second priest, the Rev. James J. Brennan, 49, was tried with Monsignor Lynn, charged with attempted rape and endangerment of a youth, but the defense challenged the accuser's credibility.

To convict, the jury had to find that Father Brennan had not only abused that boy but continued to put children at risk over subsequent years of ministry. The prosecutors were unable to find later victims. The jury said it was deadlocked on the two counts against Father Brennan, and Judge Sarmina declared a mistrial on those charges.

Monsignor Lynn's defense hinged on his claim that he had tried to curb abuses, but that only the cardinal had the authority to remove priests. One crucial piece of evidence was a list drawn up in 1994 by Monsignor Lynn of some three dozen active priests who had been credibly accused of sex abuses. Before the trial began, a lawyer for the archdiocese turned over to the court a frayed folder including a copy of the list, saying it had been found in a locked safe.

Prosecutors called it a smoking gun. One of those named in 1994 as "guilty of sexual misconduct with minors" was the former Rev. Edward V. Avery, whose continued tenure in ministry was at the heart of Monsignor Lynn's trial. Mr. Avery, now 69, spent six months in a church psychiatric center in 1993 after an abuse episode, and doctors said he should be kept away from children. But Monsignor Lynn allowed him to live in a parish rectory.

In 1999, Mr. Avery undressed with a 10-year-old altar boy, told him that God loved him and had him engage in oral sex. Mr. Avery pleaded guilty to the assault just before the trial began and was sentenced to prison.

In 2002, the National Conference of Catholic Bishops adopted a national "zero-tolerance" policy, pledging to remove any priest facing credible accusations. But serious lapses have occurred, including in Philadelphia, where a grand jury in 2011 asserted that as many as 37 priests with past accusations remained active in ministry.

Last summer Archbishop Charles J. Chaput, then the head of the Denver Archdiocese, took over in Philadelphia, and in May he announced the removal of five priests named in the grand jury report. Three others were cleared and investigations continue into other cases.

The bishop of the diocese in Kansas City, Mo., Robert W. Finn, is awaiting trial on misdemeanor charges of violating the state's mandatory reporting requirement by allegedly waiting six months to tell the police that a priest had taken lewd photographs of girls.