High-Level Catholic Priest Is Convicted
By Steve Eder, Jennifer Levitz, and Peter Loftus
Wall Street Journal
June 22, 2012

http://online.wsj.com/article/SB10001424052702304765304577482741702908490.html

A Philadelphia jury delivered a sharp rebuke of the Catholic Church's handling of allegations of sexual abuse by its priests, convicting for the first time a senior church official of not taking steps that could have prevented further attacks.

Msgr. William Lynn, who served as secretary for clergy in the Archdiocese of Philadelphia from 1992 to 2004, was found guilty on Friday of one count of child endangerment for allowing a priest to take a new assignment involving contact with children even after learning of allegations that he had engaged in inappropriate contact with at least one minor. The jury deadlocked in the case of another priest who was overseen by Msgr. Lynn and also on trial, the Rev. James Brennan.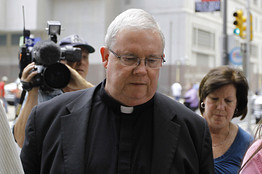 Monsignor William Lynn walked to the Criminal Justice Center before the verdict reading Friday.


The landmark ruling came after jurors heard nearly 10 weeks of testimony in a trial that opened a window into how one of the nation's largest Catholic dioceses grappled with the sort of allegations that have shaken the church for more than a decade.

Victims' groups heralded the decision as an opening to law-enforcement officials in other cities to look anew at whether other high-ranking church officials could be held criminally liable for looking the other way when priests under their charge were accused of abuse.

"We know that Philadelphia is not the only place where this has happened…other dioceses have had the same coverup and complicity by church officials," said Barbara Blaine, president of the Survivors Network of those Abused by Priests, a Chicago based group.

The verdict come as the Catholic Church braces for another clergy-abuse trial set for September in Missouri. Kansas City, Mo., Bishop Robert Finn, the highest-ranking church official to be indicted on a charge of allegedly failing to protect children, is awaiting trial on a misdemeanor criminal charge that he failed to report a priest found with child pornography. Bishop Finn has pleaded not guilty.

Msgr. Lynn, who was acquitted of two other charges—another child endangerment count, and conspiracy with another priest to endanger the welfare of children—was taken into custody Friday afternoon and faces a possible 3? to seven years in prison. Sentencing is set for Aug. 13.

The verdict has "certainly produced a great new crisis for Catholic authority," said the Rev. Raymond Helmick, a Jesuit priest, and an instructor at Boston College. "This is the first time that someone responsible for the supervision has been held to that civil accountability.…That is a precedent that may go very far. I'm sure all kinds of people are itching to bring criminal cases against many, many authorities, and we'll have to see how far it goes," he said.

The Archdiocese of Philadelphia issued a statement on Friday offering "a heartfelt apology" to victims of clergy sexual abuse. "Now and in the future, the church will continue to take vigorous steps to ensure safe church environments for all the faithful in Philadelphia," it said.

The Roman Catholic Church has been trying to move past the scandal. U.S. bishops have been putting more resources into child-protection efforts, with dioceses having spent $30.1 million for "safe environment coordinators," training programs and background checks, according to a 2011 report by the U.S. Conference of Catholic Bishops.

Some dioceses recently celebrated the 10-year adoption of the U.S. Conference's "Charter for the Protection of Children and Young People" in 2002, which established programs to keep young parishioners safe. A spokeswoman for U.S. Conference declined to comment on the Philadelphia case.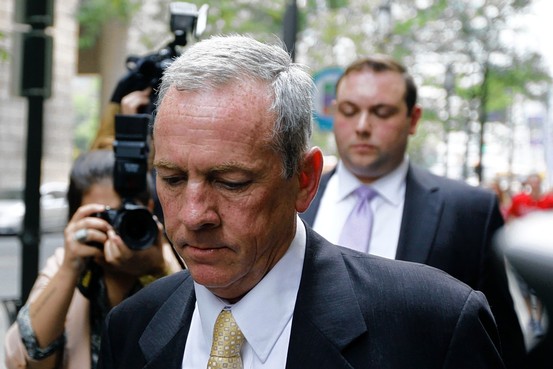 The Rev. James Brennan heading to court before the jury verdict.


As Friday's verdict was read, Msgr. Lynn's face turned red and members of his family sitting behind him cried. Lawyers for Msgr. Lynn, 61 years old, said their client was "crushed" by the single conviction on child endangerment and indicated that an appeal is likely.

They are likely to argue that the state's child endangerment statute was improperly used to prosecute Msgr. Lynn and that evidence of unrelated clergy abuse should not have been part of the trial. The statute "had never been used in this fashion before," said Jeffrey Lindy, one of Msgr. Lynn's lawyers, who said he plans to file a request to have the monsignor held under house arrest instead of jail until his sentencing.

The 12-member jury, in the Philadelphia Court of Common Pleas, handed up the verdict on the 13th day of deliberations after considering often heart-wrenching testimony from more than 60 witnesses, including Msgr. Lynn and alleged abuse victims, and saw hundreds of confidential church documents.

Isa Logan, the jury foreman, said on Friday the deliberations were sometimes heated between "open-minded" jurors. "I never knew about stuff like this happening," said Mr. Logan, 35, of West Philadelphia, who works in customer service at BNY Mellon bank. "My heart went out to the victims," he said, adding: "Every juror wanted justice."

Father Brennan, the other priest on trial, faced charges of attempted rape and endangering the welfare of a child, in connection with allegations that he abused a teenage boy at his apartment in suburban Philadelphia in 1996. "My faith is what got me through all of this," Father Brennan told reporters after the verdict.

Philadelphia District Attorney Seth Williams, who brought the case, said that the Lynn conviction would "change the way business is done" in many institutions. "What happened here was unspeakable," he said. "People knew there were predators, but were much more concerned with the institution than victims of sexual assault."

He said he had not made a decision about whether to retry Father Brennan, a move that the priest's lawyers indicated they would fight, and Mr. Williams declined to comment about any future cases.

The prosecution's case underscored both the success and the shortcomings of the church's handling of abuse allegations. The Philadelphia district attorney's office credited the diocese with referring some of the allegations at issue in the trial to prosecutors, under strengthened reporting policies the diocese adopted in the past decade.

But a grand-jury report last year assailed the diocese for allowing 37 priests to remain in active ministry despite having "credible" abuse allegations lodged against them. The diocese later placed a majority of the priests on leave as it investigated the allegations, and recently deemed some of them unsuitable for ministry. Msgr. Lynn also was placed on leave from his post as a parish pastor after he was charged last year.

Prosecutors presented evidence that Msgr. Lynn learned in the 1990s of allegations that Father Brennan and another priest had engaged in inappropriate conduct with minors but failed to keep them out of assignments involving contact with children or to inform parishioners of the allegations. The two priests later sexually abused two boys in separate incidents, prosecutors contend.

The other priest, Edward Avery, pleaded guilty before the trial to charges of involuntary deviate sexual intercourse and conspiracy to endanger the welfare of a child, and was sentenced to 2 1/2 years to five years in prison. Mr. Avery, who has since been defrocked, was accused of engaging in oral sex with a 10-year-old altar boy at a Philadelphia parish in the late 1990s.

Father Brennan didn't testify during the trial, but jurors were read his testimony from a 2008 church canonical trial in which he denied sexually abusing a 14-year-old boy. In his testimony, he did say he allowed the boy to view pornography on the priest's computer and that they slept overnight in the same bed. Father Brennan's attorney questioned the accuser's credibility and motives.

Defense attorneys for Msgr. Lynn argued that the charges against him were baseless because he didn't have authority to remove or transfer accused priests in most cases. Prosecutors countered that his failure to restrict the priests' behavior led directly to the alleged abuse of the boys.

Msgr. Lynn testified last month that he did his best to investigate allegations and recommend restrictions on the duties of accused priests. He acknowledged he never called police, and said that only his superior, the archbishop of Philadelphia, had the authority to remove or transfer priests. Cardinal Anthony Bevilacqua, who was the archbishop during most of Msgr. Lynn's tenure as secretary for clergy, wasn't charged. He died in January.

Philadelphia Assistant District Attorney Patrick Blessington told jurors that the monsignor was the "point man" for carrying out a plan by the Philadelphia diocese to keep in the ministry priests accused of sexually abusing children, and to keep the public in the dark about the allegations.

"He and everyone else that protected those pedophile priests were murdering the souls of children," he said in closing arguments.

Msgr. Lynn's attorney, Thomas Bergstrom, told jurors in his closing argument that Msgr. Lynn attempted to improve the diocese's handling of sex-abuse allegations, and did more than his predecessors. "This man, who never touched a child but yet who documented the evil other men did, [prosecutors] want you to convict him for their sins," he said.