Lynch Admits Attacking Priest, Describes Alleged Molestation
KTVU
June 29, 2012

http://www.ktvu.com/news/news/crime-law/lynch-admits-attacking-priest-describes-alleged-mo/nPjDj/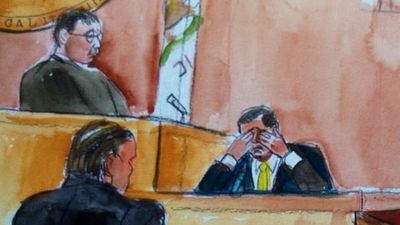 Lynch sketch June 29



William Lynch testified Friday that he punched the priest he accuses of molesting him after memories of the alleged sexual abuse came flooding back across the decades and were so vivid that he felt threatened.

Lynch is on trial in San Jose after pleading not guilty to one count of assault and one count of elder abuse.

While he is the defendant in Santa Clara County court, his lawyers are attempting to put the retired priest on trial in the court of public opinion. The attorneys are using the alleged abuse in 1975 as a defense for the pummeling of Jerold Lindner on May 10, 2010. Lynch testified Friday that memories of the alleged abuse triggered a violent reaction when he confronted the retired priest on that afternoon.

Lynch says he initially drove from his San Francisco home to the Sacred Heart Jesuit Center in Los Gatos, where the priest lives. The center is a home for retired priests, but also a residence for clergy accused of sexual improprieties.

Lynch testified that he didn't intend to strike Lindner that day. Instead, he said he wanted to confront Lindner with a written confession of the alleged molestation that he wanted the priest to sign. The Catholic Church has paid out millions to settle lawsuits alleging Lindner sexually abused children, including Lynch when he was 7-years-old, but the statute of limitations for criminal prosecution expired before the allegations were made.

On Friday, Lynch said the priest "leered" at him "with the same look in his eyes" the priest had during the alleged molestation.

"I felt at that point he was a threat to me," Lynch said during sometimes emotional testimony. Lynch said that on "one level" he knew that the smaller, much older priest wasn't a physical threat to him. But he said another part of him reverted to when the priest allegedly assaulted him, and fear took over.

"As a rational adult, I'm not afraid," Lynch said. "But part of me is stuck where I was as a child."

Lynch said after he punched Lindner twice, the retired priest grabbed him by the throat just like he grabbed the 7-year-old Lynch during the alleged molestation in 1975. After scuffling for a few more moments, the incident ended when the receptionist entered the room.

Lindner was treated and released from the hospital after receiving stitches above his eye.

Lindner has steadfastly denied he molested anyone, a denial that even prosecutors in Lynch's assault trial don't believe. Santa Clara deputy district attorney Vicki Gemetti told jurors during her opening statement on June 20 that "the evidence will show" that Lindner molested Lynch and that she expected the retired priest to lie about it and deny the accusation. Nonetheless, she implored jurors to convict Lynch, arguing he took the law into his own hands.

As promised, Lindner did repeat his denial on the witness stand on June 20 after briefly testifying Lynch beat him without provocation. But before he could be cross-examined by Lynch's lawyers the next day, the retired priest invoked his Fifth Amendment right against self-incrimination and refused to testify any further. The judge also ordered the June 20 testimony stricken from the trial record and ordered the jury to ignore it when deliberating.

The judge on Friday shot down the defense's attempt to force Lindner to court Monday to resume testifying. Lynch's attorneys sent the priest a subpoena Thursday night compelling his testimony Monday. Lindner's attorney Joe Wall marched into court Friday afternoon and persuaded the judge to toss out the subpoena.

"It's harassing," Wall said. "I think it's being done for the sole purpose of causing a spectacle."

Defense attorneys are trying to convince the jury that Lynch's punching of the priest was unplanned and brought on by fear of a man he says molested him, while prosecutors are attempting to portray Lynch as planning the assault for years.

"This was a selfish act to make himself feel better," the prosecutor Gemetti told the judge after he dismissed the jury for lunch.

Earlier, during Gemetti's cross-examination, Lynch told the jury he put on gloves in the parking lot of the center before meeting with Lindner. She also had Lynch explain why he called the center using an alias the day before the incident, telling administrators he needed to deliver a message to Lindner about a death in the family.

Lynch said he used an alias and trumped-up story to "gain access" to Lindner. He testified that if he had used his real name, he would have been denied access to the center and Lindner because of his lawsuit and allegations he made.

Lynch also said during cross-examination that he had harbored fantasies of killing Lindner, but that he didn't intend to physically hurt him on May 10, 2010.

"If I wanted Father Jerry dead, he would be dead," Lynch testified. "It is something I thought about, but it is not something I would do."

Lynch faces four years in prison if convicted. He earlier turned down an offer of a year in jail in exchange for a guilty plea.