Fr. Joseph Jiang, Associate Pastor at Cathedral Basilica, Charged with Endangering the Welfare of a Child
By Brandie Piper
KSDK
June 29, 2012

http://www.ksdk.com/news/article/326264/3/Cathedral-Basilica-priest-accused-of-inappropriate-contact

[with video]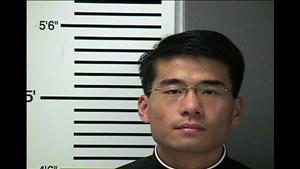 Fr. Joseph Jiang



A St. Louis priest has been charged with endangering the welfare of a child.

On June 23 the Lincoln County Sheriff's Office began investigating a complaint from a 16-year-old girl who accused 29-year-old Father Xiuhui "Joseph" Jiang, an associate pastor at Cathedral Basilica, of inappropriately touching her.

Authorities say Jiang met the victim and her family through church and became close with them over the last year.

The victim's family invited Jiang over for dinner at their home in Old Monroe, Missouri several times because he is from China and does not have family in Missouri.

Jiang occasionally spent the night at the home because of the long drive back to St. Louis.

The victim says Jiang inappropriately touched her three times between May 2012 and June 2012.

Jiang was arrested Wednesday.

Bond was set at $25,000 cash-only, which he posted Thursday.