Jury Begins Deliberations in Priest Attack Trial
KTVU
July 2, 2012

http://www.ktvu.com/news/news/crime-law/final-arguments-set-begin-priest-assault-trial/nPkKs/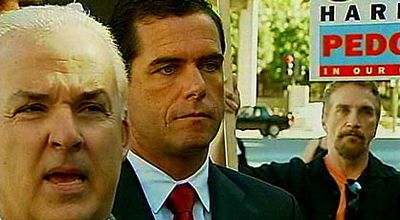 Lynch Court Arrival1



A Santa Clara County Superior Court jury will continue deliberations in San Jose Tuesday in the case of a man accused of punching a retired Jesuit priest who allegedly raped him 37 years ago.

Defense attorney Paul Mones said the jury in the trial of William Lynch, 44, deliberated for 30 minutes Monday following closing arguments and will resume at 9 a.m. Tuesday.

Lynch, of San Francisco, is charged with felony assault and elder abuse in an attack on Jerold Lindner, 67, at a retirement home for Jesuit priests in Los Gatos on May 10, 2010.

Lynch has claimed that Lindner raped him at the age of 7 and forced him and his 4-year-old brother to perform sexual acts on one another during camping trips in Portola Redwoods State Park in 1975.

Lindner was never criminally charged with the alleged molestation, for which the statute of limitations has expired.

In 1998, however, the Jesuit order, without admitting any liability, settled a civil lawsuit filed by the two brothers for more than $600,000.

At the start of Lynch's trial on June 20, prosecutor Vicki Gemetti said the evidence would show that Lindner had molested Lynch, but told the jury in the court of Judge David Cena that Lynch's alleged assault on the retired priest was nevertheless illegal vigilantism.

In testimony on Friday, Lynch tearfully recounted the alleged molestation in 1975 and admitted striking Lindner during his visit to the Sacred Heart Jesuit Center two years ago.

He told the jury he went to the retirement home with the intention of only confronting the priest and forcing him to sign a written confession. "I wanted him to take responsibility for what he did to me," said Lynch, who testified that the alleged abuse destroyed his life and caused him years of depression.

But Lynch said that when the priest allegedly gave him the same look he had given him during the alleged rape, his childhood anger was triggered and he then hit Lindner.

Mones said he and fellow defense attorney Pat Harris argued during their closing today that prosecutors hadn't proved the legal elements of felony assault with intent to cause great bodily injury or of elder abuse, which requires proof that the perpetrator knew the victim was at least 65 years old.

Lindner was 65 at the time of the attack.

Harris said of his closing argument, "I told the jury that she (Deputy District Attorney Gemetti) argues no man is above the law except apparently Father Lindner."

Lynch has been charged with both assault and elder abuse as felonies, but the jury could reduce either of those charges to lesser misdemeanors, according to the district attorney's office. If convicted of both charges as felonies, he could face up to four years in prison.

Lynch is an unemployed commercial real estate agent, his lawyers said.