Waterford Priest Says He's Addicted to Child Pornography
By Izaskun E. Larraneta and Karen Florin
The Day
July 3, 2012

http://www.theday.com/article/20120703/NWS04/120709955/1017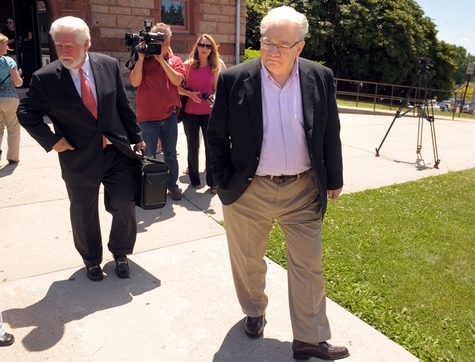 The Rev. Dennis Carey of St. Paul in Chains Church, right, exits Connecticut Superior Court in New London Tuesday, July 3, 2012, with his attorney Ronald F. Stevens following the Rev. Carey's arraignment on a single count of first-degree possession of child pornography.



The Rev. Dennis Carey, the former pastor of St. Paul in Chains Church in Waterford, said he wants help for a child pornography addiction when he was arraigned Tuesday in New London Superior Court on a single count of first-degree possession of child pornography.

He is facing a five year mandatory prison sentence if convicted of the crime, which is a Class B felony.

Carey, 65, who gave an East Hartford address, resigned on Friday after the diocese had learned a day earlier that state police were investigating him.

Following his arraignment, he was released on a $100,000 bond and his attorney, Ronald F. Stevens, said he was taking him to a psychiatrist this afternoon to get help for his addiction. Stevens said Carey has never touched a child inappropriately.

Carey is staying in "another church location," according to Stevens. The judge ordered him to have no contact with minors, not use computers and not possess pornographic materials.

Carey turned himself in to state police at Troop E in Montville this morning knowing they had a warrant for his arrest, according to Stevens.

Carey is accused of having at least 338 files of suspected child pornography on two laptops, two tower computers and two external drives that state police seized from the church rectory on June 28. The 275 picture files and 63 video files contain images of boys and girls under 16 engaged in sexually explicit acts, according to state police.

During an interview with the police, Carey admitted he first saw child pornography in an Internet news group two years ago. He said he never intentionally distributed child pornography but is addicted to it and has tried to stop viewing it many times in the past. He told police he has never had sexual contact with a child.

Police said that on May 29 the Los Angeles police Internet Crimes Against Children Task Force contacted the Connecticut State Police Computer Crimes Internet Crimes Against Children Task Force, requesting assistance into an investigation that originated in California.

State police obtained information from America Online, which submitted reports to the National Center for Missing and Exploited Children concerning suspected child pornography.

State police, with the assistance of Waterford police, executed search warrants and subpoenas Thursday at St. Paul associated with various email accounts and IP addresses. Computers and other items were seized.

Carey's case has been transferred to the court where major crimes are tried and continued to Monday, when he will appear before Judge Patrick J. Clifford. Senior Assistant State's Attorney Theresa Anne Ferryman will prosecute the case.

The Most Rev. Michael R. Cote, Bishop of Norwich, released a statement today after learning of Carey's arrest.

"We, along with everyone else, will wait to see how the legal process unfolds and to learn the details of the investigation. These allegations are extremely serious and run contrary to everything we believe as a Church. To exploit children in that fashion is absolutely reprehensible. We pray the allegations are not true.

"This is a sad moment for all of us. We always hope we will never again hear about any investigations or allegations of misconduct by priests. For the parish community, for the priests of the diocese, and for me personally, it is extremely difficult. We are all saddened and deeply hurt."

Cote said state police have the diocese's full cooperation.

Michael Strammiello, spokesman for the diocese, said the diocese is in the process of formulating a plan to best deal with the needs and concerns of St. Paul's parishioners.

Father Joseph Whittel, of Our lady of Perpetual Help Church in Quaker Hill, will serve as interim Parish Administrator.

Carey was ordained a priest in 1998 after a 25-year career as a certified public accountant in Massachusetts and New Hampshire, according to biographical information on the diocese website.

Earlier in his career, Carey had been assigned to St. Joseph in New London and St. John the Evangelist Parish in Old Saybrook.

He was appointed pastor at St. John Parish in Middletown in 2003. He previously was administrator of St. John's. He also served at Sacred Heart Parish in Wauregan and Most Holy Trinity in Pomfret.