House of Peace Co-founder Retires
By Annysa Johnson
Milwaukee Journal Sentinel
July 7, 2012

http://www.jsonline.com/features/religion/house-of-peace-cofounder-retires-t061lt5-161698335.html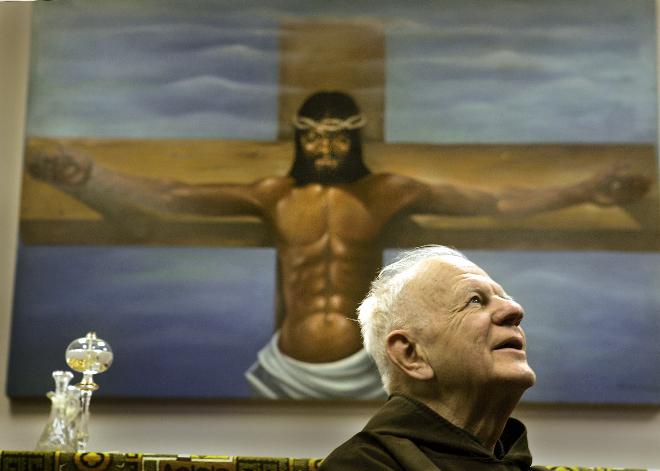 Father Matthew Gottschalk had worked at the House of Peace since co-founding it with fellow Capuchin Brother Booker Ashe in 1968.



A prominent Catholic priest who co-founded Milwaukee's House of Peace and has long ministered to members of the African-American community has retired, in part because of inappropriate behavior involving a minor 30 years ago, his religious order said Friday.

Father Matthew Gottschalk, 85, who was working at the House of Peace when the allegation arose this year, acknowledged the behavior was inappropriate, said Amy Peterson, who handles sex abuse cases for the Detroit-based Capuchin Franciscan Province of St. Joseph.

She said the incident did not rise to the level of a crime, according to an investigation by the Milwaukee County district attorney's office, and that it was not solely the reason for Gottschalk's retirement. Other factors, including his age, health and the recent loss of his driver's license, also were considered, she said.

"But this gave us an opportunity to look at his situation holistically," she said. "And the House of Peace just wasn't the place for him."

Peterson declined to elaborate on the accusation, which emerged as a sealed claim in the Archdiocese of Milwaukee bankruptcy. She said the Capuchins turn all accusations involving living friars over to the district attorney's office for review.

She declined to provide a copy of the DA's office's letter explaining its decision not to charge Gottschalk, and it could not be obtained from the office late Friday.

Moved to Detroit

Gottschalk has moved to the order's home in Detroit because its Appleton friary had no openings, according to Peterson.

A Wauwatosa native, Gottschalk is well-known and admired in Milwaukee's African-American community for his commitment to civil rights and social justice and advocacy for the poor and disenfranchised.

He spent his career in predominantly African-American parishes: St. Benedict the Moor, St. Francis and St. Elizabeth, now St. Martin de Porres, often taking his ministry to the streets in his brown friar's robes and - in earlier years - his flowing white beard.

Gottschalk marched with Father James Groppi in Milwaukee and Martin Luther King Jr. in Selma, Ala. He had worked at the House of Peace, the outreach ministry of St. Francis of Assisi Parish at N. 4th and W. Brown streets, since co-founding it with fellow Capuchin Brother Booker Ashe in 1968.

"He was the pre-eminent Catholic priest in the African-American community," said Father Carl Deiderich of All Saints Catholic Church, who has known Gottschalk since 1965.

"He was a humble person, a street priest in the best sense of the word," he said. "I hope this doesn't tarnish his legacy."

Before his retirement, Gottschalk was much in demand for funerals, Masses and other special occasions, said 77-year-old Dolores White, who has known Gottschalk for decades.

"We're not too happy about it," she said of his departure. "He's such a wonderful person. So many people knew and liked him - and you didn't have to be Catholic."

Peter Isely of the Survivors Network of Those Abused by Priests - himself a victim of a Capuchin - declined to comment on the allegation, saying he did not know enough about it.

But he voiced concern for the St. Francis community, once his own parish where he worshipped and worked.

"They are a wonderful church community in a very special neighborhood," Isely said.

"I hope, whatever has gone on, that Matthew and the Capuchins will directly clear this up with that community. They deserve it."