Priest Appears in Court on Pornography Charge
By Karen Florin
The Day
July 9, 2012

http://www.theday.com/article/20120709/NWS02/120709803/-1/NWS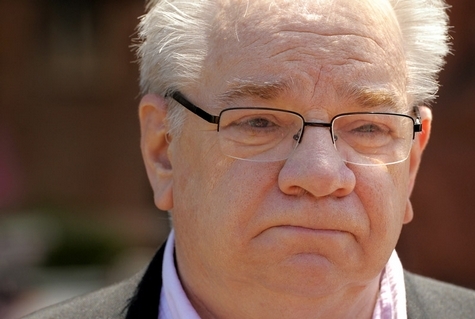 In this July 3, 2012, Day file photo, The Rev. Dennis Carey of St. Paul in Chains Church in Waterford stands quietly as his Attorney Ronald F. Stevens gives a brief statement to the media on Carey's behalf outside Connecticut Superior Court in New London.



Former Waterford pastor Dennis Carey, an admitted child pornography addict, made his first appearance this morning in the New London court where major crimes are tried this morning.

Judge Patrick J. Clifford entered a "not guilty" plea on Carey's behalf and reminded him of the conditions of his release. He is to have no access to the Internet, no contact with children under the age of 13 and no access to pornography.

Carey was concerned about coming into contact with minors when he went grocery shopping, according to his attorney, Ronald F. Stevens. The judge said Carey is not prevented from going to the store, and prosecutor Theresa Anne Ferryman said that incidental contact with minors is expected.

Carey, 65, resigned from Waterford's St. Paul in Chains Church on June 29 after state and local police served a search warrant on the rectory, where Carey lived, and seized computers they said contained hundreds of images of child pornography. He posted a $100,000 bond following his arrest last week for possession of child pornography. He is living at the Holy Apostles Seminary in Cromwell, according to his attorney. His next court date is Aug. 13.

Carey, who faces a five-year mandatory minimum prison sentence if convicted, will likely make several court appearances as his attorney and the prosecutor attempt to resolve the case short of trial.

He admitted to police that he started looking at child pornography two years ago, knew it was wrong but was unable to stop, according to court documents. He began counseling following his arrest, according to his attorney. Stevens said Carey has not had any inappropriate sexual contact with children.

Over the weekend, Bishop Michael R. Cote wrote to parishioners of the Diocese of Norwich that he has started the process of dismissing Carey from the church. Cote wrote also that he will offer to send Carey to a residential treatment program. The letter indicated that the Diocese did not pay for Carey's bond and is not funding his defense.