Timothy Raemakers, Priest at Corpus Christi Catholic Church in Aliso Viejo, Calls Sex-Abuse Allegation Lodged against Him a " 9/11 Moment"
By Gustavo Arellano
Orange County Weekly
July 11, 2012

http://blogs.ocweekly.com/navelgazing/2012/07/timothy_raemakers_corpus_christi.php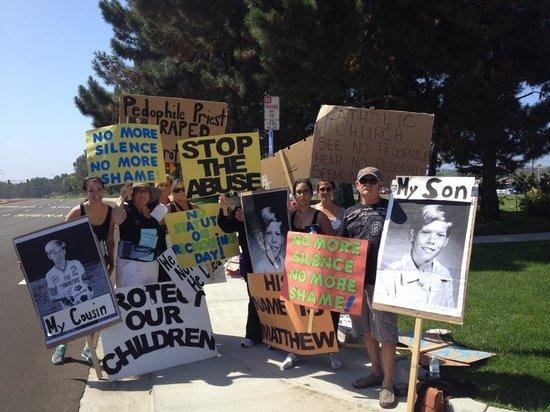 Family and friends of Carrigan, outside Corpus Christi on Sunday



In late 2010, the Catholic Diocese of Orange revealed that they were looking into allegations made by Matthew Carrigan that Father Timothy Ramaekers molested him as a child at St. Justin Martyr Church in Anaheim during the 1980s--this, after Carrigan filed a civil lawsuit in 2009 alleging Ramaekers and other priests abused him. The diocese said they found no evidence that Ramaekers abused Carrigan, but that hasn't stopped Matthew and his family from letting the world know what they think of the priest, who just got the nod to head Corpus Christi in Aliso Viejo.

They were there in force this past weekend, where Ramaekers continued the arrogance that characterizes the modern-day Catholic Church in the United States by comparing Carrigan's allegation and subsequent actions to a "9/11 moment" against him.

"A 9/11 [moment] is something that we don't create," Ramaekers told parishioners, according to eyewitnesses. "It's not something that we do. 9/11, when we look at it, it is not fair. It's not right.

It's not just. We may be in the wrong place at the wrong time, but when we are in our 9/11 Ground Zero experience, our life is altered forever. My 9/11 experience is being accused of sexual misconduct."

All together now: IDIOT.

Since Carrigan's lawsuit was dismissed (statute of limitations) and the Diocese of Orange says Ramaekers ain't a pedo-priest, there is no stain on him--none. And certainly not something that involves the horrible deaths of thousands of innocents.

Even worse? Ramaekers told parishioners he would talk to Carrigan's family...and never did. Heckuva job, Brownie!