St. Lawrence Priest Accused of Sexual Misconduct
Fond du Lac Reporter
July 16, 2012

http://www.fdlreporter.com/article/20120716/FON0101/307160179/St-Lawrence-priest-accused-sexual-misconduct?odyssey=nav|head&nclick_check=1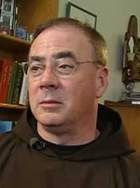 Father Dennis Druggan



A Catholic priest in Fond du Lac County has been placed on administrative leave amid accusations of sexual misconduct involving a minor more than two decades ago in Montana.

The Capuchin Province of St. Joseph released a newsletter to parishioners over the weekend stating that Father Dennis Druggan, president and rector at St. Lawrence Seminary High School, had been placed on administrative leave effective July 13.

The statement released by the Capuchin Province reported that an independent investigation has been launched to look into sexual misconduct allegations involving a minor at St. Labre Indian School in Ashland, Mont., over 25 years ago.

St. Labre Indian School located in southwest Montana offers preschool through high school education for Crow and Northern Cheyenne children. Combined enrollment at the school's three campuses is estimated at 700 students. Students living more than 40 miles from the school stay in dormitories during the week, according to the school's website.

There have been no allegations involving Druggan's ministry at St. Lawrence Seminary located in Mount Calvary, according to the statement. Druggan served as a staff member at St. Lawrence Seminary from 1992 to 1997 and has served as president since 1997.

St. Lawrence is a college preparatory program for male students from around the world who board at the Mount Calvary facility. The school was founded in 1860 by Capuchin Franciscans. The current enrollment is around 200 students, according to the school's website.

The allegations involving Druggan were received by the Province in June and, per provincial policy, were reported to officials in Rosebud County, Mont., for possible criminal investigation. The alleged victim has been offered pastoral services, according to the statement.

Due to the statute of limitations expiring in the state of Montana, no criminal investigation or charges stemming from the assault allegation will be forthcoming.

To avoid interference with the criminal investigation, Druggan was not notified of the allegations until last week when he was placed on administrative leave on July 13. Druggan is listed as the president and rector of the Fond du Lac County school.

The Province will be retaining the services of an independent investigator to further investigate the allegations. The results of the investigation will be submitted to the Provincial Review Board, which will make recommendations to the Provincial Minister, according to the statement.

In the meantime, Father John Holly, local minister of St. Lawrence Friary, has been appointed acting rector and Academic Dean David Bartel has been appointed acting principal.