Breaking News: Priest Will Consider Plea on Child Sex Counts, Attorney Says
By Lance Benzel
The Gazette
July 19, 2012

http://www.gazette.com/news/manning-141912-plea-attorney.html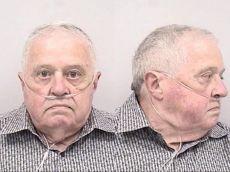 Robert Manning



THE GAZETTE

A retired priest accused of luring a 15-year-old Colorado Springs boy into a sexual relationship after taking him under his wing for spiritual counseling is considering a guilty plea, his attorney said in court Thursday.

Father Charles Robert Manning, 77, waived his preliminary hearing before 4th Judicial District Judge Ronald Crowder.

His attorney, Richard Bednarski, told the judge his client is considering a plea offer, though details weren't disclosed in court. Prosecutors are barred from publicly discussing such deals, prosecutor David Kalicki said after the hearing.

Crowder set an Aug. 23 return date to hear a possible guilty plea.

Manning was appointed pastor at St. Gabriel the Archangel Catholic Church in Colorado Springs in 2007 after serving at three parishes in the St. Louis area, and he was suspended in January amid allegations he performed sex acts on a boy who came to him for advice about Catholicism.

After inviting the boy to join one-on-one study sessions, Colorado Springs police say, Manning supplied the boy with vodka and marijuana, took him to get his nipples pierced at a Colorado Springs tattoo shop, and ultimately coaxed him into repeated sex acts, after which he thanked the teenager.

The alleged abuse occurred in June 2011, the boy alleged. Manning has since retired.

"I really appreciate what you did for me yesterday," the boy said Manning told him after an incident involving oral sex.

The boy's sister expressed concerns to a woman who in turn contacted Colorado Springs police. The woman reported to police that Manning also asked the boy to call him "grandfather" and behaved like a "jealous lover" toward him, often sending texts and phone calls demanding to know his activities.

At Thursday's hearing, Crowder agreed to relax Manning's weekly urine testing to once every three weeks after Bednarski complained of expense.

A different judge ordered the tests because of allegations that Manning plied his victim with alcohol and pot.

Bednarski said Manning has successfully completed weekly testing, but is struggling with the $75 to $175 weekly fees, which aren't covered by insurance.

Manning, who is free on bond, lives in a home for retired priests in the metropolitan St. Louis area, and travels to Colorado Springs for court appearances. He carries a walker and oxygen tank. He did not address the court Thursday.

Manning is charged with three counts of sex assault on a child by one in a position of trust, two counts of contributing to the delinquency of a minor and two counts of sexual exploitation of children, a child pornography offense.

He faces up to life in prison if convicted.