Green Bay Catholic Diocese Granted New Trial in Sex Abuse Case
By Jim Collar
Green Bay Press-Gazette
July 19, 2012

http://www.greenbaypressgazette.com/article/20120719/GPG0101/307190142/Judge-grants-Green-Bay-Diocese-new-trial-in-sex-abuse-case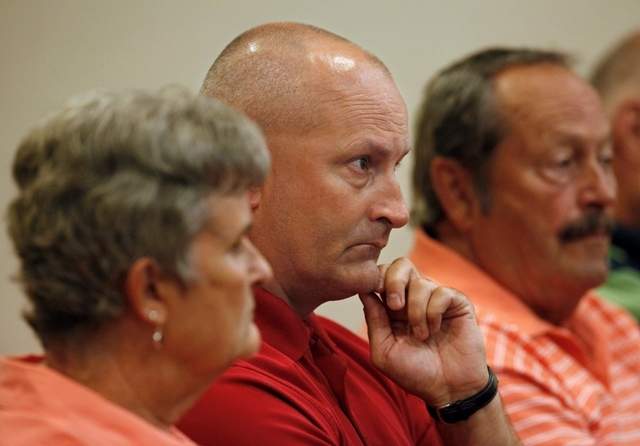 Todd Merryfield, center, listens Tueday during a post-verdict motion hearing in Outagamie County Judge Nancy Krueger's courtroom, on the Catholic Diocese's challenge to the $700,000 award given to brothers Todd and Troy Merryfield. / Sharon Cekada/Gannett Wisconsin Media



The Catholic Diocese of Green Bay gets another day in court.

A judge on Wednesday granted a new trial to the diocese out of concern that a juror's potential bias against the church compromised the civil lawsuit won in May by two childhood victims of clergy sexual assault.

Outagamie Judge Nancy Krueger made the ruling in a 12-page written decision that erased a $700,000 jury verdict awarded to brothers Todd and Troy Merryfield. Jurors deliberated for about five hours before returning the verdict in the Merryfields' favor.

The brothers filed the civil fraud case in 2008. They claimed the diocese knew the Rev. John Feeney had a history of sexual misconduct when it installed him as a priest at Freedom's St. Nicholas Church and falsely portrayed him as safe even though church officials knew he was a danger to children.

The brothers, then 12 and 14, were molested by Feeney in 1978.

The bias issue came up after a member of the jury brought forth concerns after conversation with another member of the panel. A juror during conversation in the parking lot after the trial told two others that she suspected a family member was also a victim of Feeney.

Troy Merryfield was sympathetic to the juror on Wednesday and didn't fault her. He said the case shouldn't have gone as far as trial, arguing the diocese should simply take responsibility for children harmed by its priests.

"It's very frustrating," he said. "It's very disheartening and it's the last thing you'd expect from an institution you were raised in."

Todd Merryfield couldn't be reached for comment.

The juror told peers that a family member had attended St. Therese School in Appleton during the period Feeney was assigned to the church. She questioned whether he could have been a victim of abuse. The juror was also friends with a cousin of the Merryfields' mother.

Krueger listened to arguments for and against a new trial during a Tuesday hearing.

John Peterson, attorney for the Merryfields, contended bias wasn't an issue. The woman didn't recall her family member's possible interactions with Feeney until the trial was already under way. She wasn't concerned the thoughts would impact her ability to serve fairly, he argued.

Diocesan Attorney Patrick Brennan said the woman wouldn't have been placed on the jury had she been forthcoming during the selection process. She should have least brought forth her thoughts regarding Feeney before deliberations began. The court in that situation could have used an alternate juror, he argued.

Krueger addressed the jury selection process in her decision.

Several potential jurors said they couldn't be fair and impartial and all were excused, she wrote.

Potential jurors filled out a questionnaire prior to jury selection. The woman acknowledged having attended a Catholic grade school. However, she answered "no" to questions as to whether anyone close to her had been a victim of sexual assault or whether she ever suspected someone of being sexually abused.

The woman was brought in for an interview in June after the bias concerns came forth and explained what came to mind regarding her relative.

"I don't know how to say this, we suspected," the juror said. "I'm not saying anything sexual happened with Father Feeney. I have no evidence of anything like that."

Krueger said the woman's omissions during jury selection are especially problematic in that she acknowledged talking to another relative about her suspicions during Feeney's 2004 criminal trial.

The woman's thoughts would affect her impartiality whether they were just suspicions or verified fact, Krueger wrote.

"The overriding emphasis of this court must be on the integrity of the justice and jury system – and the right of all parties to a fair and impartial trial," Krueger wrote. "If even one juror harbors a material prejudice, the right to an impartial jury has been impaired."

Deacon Timothy Reilly issued a written statement on behalf of the diocese that reiterated an apology to the Merryfields for the actions of Feeney.

"What John Feeney did to them was wrong and inexcusable," he wrote. "Secondly, we applaud Judge Krueger's decision granting a new trial. This was a difficult decision for her, but she rightfully made her conclusion based upon the integrity of the justice and jury system and the right of all parties to a fair and impartial trial."

Krueger expressed dismay at the costs, time and resources that will come with another trial. She made note the issue wasn't one orchestrated by either side of the lawsuit.

Peterson said the ruling doesn't call to question the merits of the case. He said it's too early to say whether the Merryfields would try to appeal Krueger's ruling.

"I'm very discouraged that the diocese is putting the Merryfields through this again," he said.

Troy Merryfield said the May trial was a painful experience, but one he's willing to go through again in effort to hold the diocese accountable.

He wants to the church to be forthcoming about sexual abuse involving members of the clergy.

"They're protecting themselves instead," Merryfield said.

Jim Collar writes for The Post-Crescent of Appleton.