Updated: Police Arrest Long Beach Priest for Sexual Assault on 2 Women, 1 Girl
By Kelly Puente
Contra Costa Times
July 24, 2012

http://www.contracostatimes.com/california/ci_21147497/police-arrest-long-beach-priest-sexual-assault-2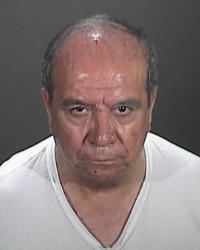 Luis Jose Cuevas



A catholic priest from a Long Beach church was arrested this week on suspicion of sexually assaulting two women and a teenage girl, police announced Tuesday.

Father Luis Jose Cuevas, a parish priest at St. Athanasius Catholic Church, 5390 Linden Ave., is facing nine counts of sexual assault following accusations from three alleged victims, said Long Beach Police Sgt. Aaron Eaton.

Police believe there may be more possible victims and are asking anyone with information to come forward.

Eaton said that in April two women accused Cuevas of sexual battery. Both women initially reported the incidents to the Archdiocese of Los Angeles and then filed a police report.

As police were investigating the allegations, a 17-year-old girl came forward and accused Cuevas of repeated incidents of inappropriate touching over a two-year period, Eaton said.

The Los Angeles County District Attorney's Office on Thursday filed eight misdemeanor charges plus one felony count involving lewd acts with a child.

Authorities arrested Cuevas in the city of San Jacinto, Mexico, on Monday and extradited him to Long Beach, where he is being held in lieu of $1 million bail at the Long Beach City Jail. His arraignment is scheduled for Wednesday in Long Beach Superior Court.

In addition, there are at least 16 other sexual battery accusations involving the suspect that can't be charged against him because the statute of limitations has run out, according to court documents.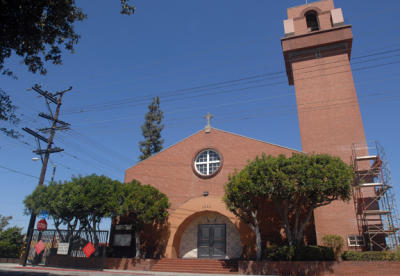 Father Luis Jose Cuevas, a parish priest at St. Athanasius Catholic Church at 5390 Linden Avenue, is facing nine counts of sexual assault following accusations from three alleged victims, said Long Beach Police Sgt. Aaron Eaton. (Brittany Murray / Staff Photographer)



Cuevas, 67, has served as parish priest at the Long Beach church for the past seven years and lived on church grounds, police said. A spokeswoman for the Archdiocese of Los Angeles deferred all questions to the Long Beach Police Department pending the ongoing investigation.

In a statement read at all Masses at the parish over the weekend, Father Francis Ilano, another priest at the church, said Cuevas has been relieved of his duties as pastor at St. Athanasius.

"The Archdiocese takes all such matters seriously and considers both allegations to be credible," Ilano said in the statement, which was provided to the Press-Telegram Tuesday. "This week the Archdiocese took action to remove Father Cuevas from all ministry and he will be living privately pending the outcome of these matters."

An employee at the church declined to comment about the arrest Tuesday.

Founded in North Long Beach in 1933, St. Athanasius is a diverse church with more than 3,000 families, according to its website. It also runs the St. Athanasius School, which serves students in kindergarten through 8 th grade.

The Police Department asks that anyone who has had similar contact with the suspect, or information regarding someone who has, contact the Sex Crimes Detail's tip line at 562-570-7878. Anonymous tips may be submitted via text or web by visiting www.tipsoft.com.

Kelly.puente@presstelegram.com, 562-714-2181, twitter.com/kellypuentept