Bishop Says "False Hearsay" Linking Him to Claim Hurts Diocese, Family
Catholic Sentinel
July 26, 2012

http://www.catholicsentinel.org/main.asp?SectionID=2&SubSectionID=34&ArticleID=18847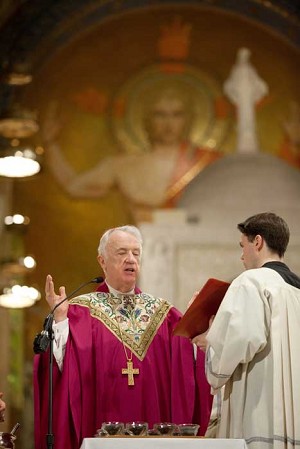 Bishop Michael Bransfield of Wheeling-Charleston, W.Va., blesses ashes before they are distributed during Mass at the Basilica of the National Shrine of the Immaculate Conception in Washington.



Bishop Michael Bransfield of Wheeling-Charleston said the "false hearsay statements" made against him at the recently concluded Philadelphia trial of two priests on sex abuse-related charges have hurt him, his family and the people of his diocese.

In a July 23 letter to the priests and people of the Wheeling-Charleston Diocese, Bishop Bransfield said a "hearsay allegation" that he had engaged in improper conduct with a high school student in the 1970s "has been put to rest" by the student in question, now in his 50s, and others.

"I can only repeat what I have stated before publicly: I have never abused anyone," the bishop said.

The allegation surfaced during the trial of Msgr. William Lynn, former secretary of clergy in the Philadelphia Archdiocese, on charges of child endangerment; he was later found guilty of one count and recently sentenced. His co-defendant, accused of abuse, must be retried after the jury could not reach a verdict in his case.

At the trial, a witness testified that a now-defrocked priest had told him that a young man in a car with then-Father Bransfield was being abused by Father Bransfield. Ronald Rock, a Philadelphia business executive, has since publicly identified himself as that young man.

"Rock has confirmed that he was the boy in the front seat of the car and that Bransfield never engaged in any improper conduct of any kind," said a news release issued July 23 by the diocese. "According to Rock, Bransfield was a 'guy's guy. ... There was no inappropriate anything.'"

A second student who was present during the weekend in question "has also confirmed that there was no inappropriate conduct," the release said.

"I am very grateful to these two Catholic men ... who have come forward on these matters," Bishop Bransfield said in his letter. "I am very fortunate that they have come forward 35 years later to defend me."

The bishop also said reports have surfaced in recent days about an accusation raised in 2007 by a former student and dating back to the 1970s.

"That allegation was investigated thoroughly by the Archdiocese of Philadelphia when it first surfaced," the news release said. "At the conclusion of the investigation, which was conducted by outside investigators, Cardinal Justin Rigali issued a formal determination that the allegation had not been substantiated.

"The allegation was also reported at the time to local prosecutors, who declined to bring charges," it added.

In his letter, Bishop Bransfield expressed concern for the priests and people of the diocese; for his family members, especially those who live in Philadelphia; and for his friends.

But he said he has received "an outpouring of support and prayers during these months," including cards and notes of support as well as handshakes and words of encouragement.

"As your bishop, I want you to know that these wonderful acts of kindness mean a great deal to me," he said. "I ask you to continue to pray for me. Your prayers mean a great deal to me and are a wonderful source of consolation."

Bishop Bransfield also asked Catholics to join him "in prayer for all those who have been affected by sexual abuse."