Clergyman Faces Allegations He Sexually Abused Child in Parish
By Cheryl R. Clarke
Williamsport Sun-Gazette
July 26, 2012

http://www.sungazette.com/page/content.detail/id/581193/Clergyman-faces-allegations-he-sexually-abused-child-in-parish.html?nav=5011

The Blossburg priest who was suspended from his duties last fall for allegedly sexually assaulting an altar boy was held over for county court Wednesday by District Judge James Carlson.

Thomas P. Shoback, 60, of Wilkes-Barre, will face all charges against him, including three counts of involuntary deviate sexual intercourse, two counts of indecent assault, two counts of endangering the welfare of children, one of corruption of minors and two counts of indecent assault at 8:30 a.m. Aug. 20 before President Judge Robert E. Dalton Jr. in the Tioga County Court of Common Pleas.

The charges are in connection with the alleged multiple sexual assaults between Feb. 20, 1991, and Feb. 20, 1997, against the victim, now 32, who was an altar boy at St. Mary's Parish Rectory.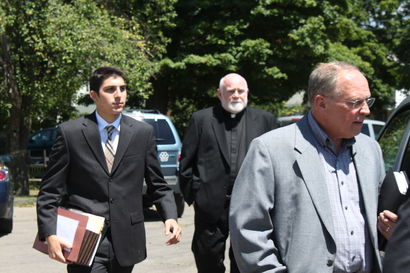 CHERYL R. CLARKE/Sun-Gazette



Shoback was the priest at St. Mary's and the victim and his family were parishioners and also friends with Shoback.

The victim told the court that Shoback began abusing him when he was 11 or 12 years old and that the abuse would happen three out of four Sundays each month when he stayed after Mass to help count the collection.

He spoke in detail, testifying that Shoback would start by touching his genitals outside his clothes, then placing his hands down his pants and fondling him, then performing oral sex on him.

He also testified that on two occasions he was laying in bed naked with Shoback and that the priest attempted to sodomize him. He said the assaults took place either at the church rectory or at Shoback's cabin in Farmington Township.

The victim testified that he felt "controlled" by Shoback if he didn't spend time with him and do the things the priest wanted. He said Shoback would become angry, but that he never threatened him.

He said the relationship continued sporadically even after Shoback left St. Mary's and was transferred to a Montoursville parish, when he would go there to do odd jobs for the priest.

He said he never told anyone about the abuse, not his parents, older brother or even the woman to whom he now is married, until last November when he called the Diocese of Scranton to report the alleged abuse.

He said he felt compelled to tell what had happened to him after the Jerry Sandusky scandal erupted "because it was the right thing to do and he didn't want it to happen to another kid."

The victim said he denied there had been any sexual assaults in a 2006 telephone interview with someone from the Diocese, because, he said, he was "embarrassed and ashamed" and didn't want to go through what he is going through now.

He also was about to get married, he said.

The victim said he had no plans to sue the diocese or anyone else.

The victim said he attended religious education and was involved in Catholic youth groups while the alleged abuse was taking place. He also would work at the church after school and during the summers doing odd jobs and cleaning the rectory for an hourly wage.

He also testified that Shoback bought him gifts on a regular basis and would take him to the mall to shop, paying for everything including an all-terrain vehicle.

When he became too big for the smaller vehicle, Shoback upgraded it to a bigger ATV.

The victim said he has since gotten rid of everything Shoback ever bought him. Shoback was released on $35,000 bail.

Contact: cclarke@sungazette.com