Philly Priest Charged with 1997 Sexual Assault
By Maryclaire Dale
San Francisco Chronicle
July 27, 2012

http://www.sfgate.com/news/article/Philly-priest-charged-with-1997-sexual-assault-3740960.php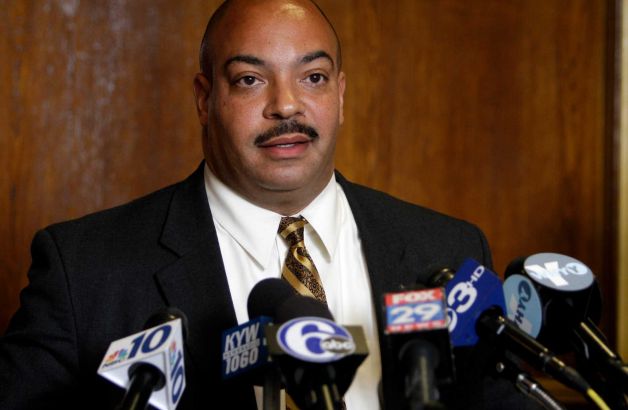 District Attorney Seth Williams speaks at a news conference, Friday, July 27, 2012, in Philadelphia. Rev. Andrew McCormick has been charged with sexually assaulting a 10-year-old boy. Prosecutors accuse McCormick of molesting the boy in 1997 while assigned to a Northeast Philadelphia parish. McCormick is one of about two dozen priests suspended last year after a grand jury report that found priests accused of abuse were still in ministry. The 56-year-old McCormick is in custody after surrendering Thursday. It's not clear if he has a lawyer. Bail has been set at $150,000. Photo: Brynn Anderson / AP



A priest suspended last year has been charged with sexually assaulting a 10-year-old altar boy in 1997.

The Rev. Andrew McCormick, 56, assaulted the boy in his Northeast Philadelphia rectory, authorities said Friday. McCormick is one of about two dozen priests suspended last year after a blistering grand jury report found many accused priests still in the ministry.

McCormick spent three decades as a priest in the Philadelphia archdiocese and regularly took young boys on trips to Poland, authorities said Friday.

"We have reason to believe that there may be other victims," District Attorney Seth Williams said at a press conference. "After (this) incident happened, the defendant tried to ensure that the victim would not tell anyone about the abuse by telling the boy, 'Masturbation is a sin, homosexuality is a sin, pre-marital sex is a sin and lying is a sin.'"

The archdiocese first learned of less serious accusations against McCormick in 2004, police Capt. John Darby said. The accusations involved boundary issues and improper behavior. The archdiocese suspended McCormick in March 2011, nine months before the accuser in the criminal case came forward.

McCormick was arrested Thursday night at his parents' house in Pottstown, where he has lived since he was removed from Sacred Heart parish in Swedesburg in Montgomery County. He was charged with deviate sexual intercourse, statutory sexual assault, indecent exposure and related offenses.

Defense lawyer William J. Brennan expects him to post bail, which was set Friday at $150,000.

"We look forward to seeing what evidence, if anything, the commonwealth has in support of this very old, lone allegation," Brennan said.

The altar boy had been invited to the St. John Cantius rectory for snacks after Mass for several months in fall 1997 before he was taken upstairs one day and sexually assaulted, police said. The accuser, now 25, said he was assaulted only one time.

He contacted police in December after seeing coverage of the prosecutions of child sexual abuse at Penn State and within the Philadelphia archdiocese.

"I think it brings it all out again. It certainly brings the nightmare, the horror, back to the individual and the family," Darby said.

McCormick's arrest comes just a week after Monsignor William Lynn was sentenced to three to six years in prison on a conviction of covering up a 1992 abuse complaint against now-convicted ex-priest Edward Avery.

McCormick had also worked at St. Bede the Venerable in Holland in Bucks County and at St. Adalbert parish in Philadelphia since his 1982 ordination, the archdiocese said. The church said it learned of the altar boy's complaint from law enforcement.

The city chapter of the Survivors Network of those Abused by Priests called on Archbishop Charles Chaput to visit McCormick's former parishes and urge people to report anything troubling they may know.

"Kids are safest when victims go directly to secular authorities, not church figures. Every person who saw, suspected or suffered misdeeds by this priest should do likewise," said Karen Polesir, director of the group's Philadelphia chapter.