Boston Priest Arrested on Child Pornography Charges
By Joseph O'Leary
WTAQ
August 1, 2012

http://wtaq.com/news/articles/2012/aug/01/boston-priest-arrested-on-child-pornography-charges/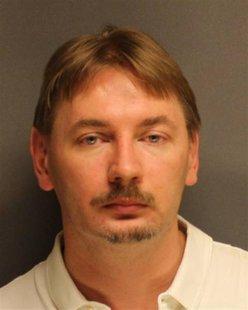 Andrew Urbaniak is seen in a handout photo from the Suffolk County Distict Attorney's office.



BOSTON (Reuters) - A South Boston priest was charged on Wednesday with possessing and distributing child pornography using a computer in his parish's rectory, authorities said.

Andrew J. Urbaniak was arraigned in South Boston District Court on one count of possession of child pornography and one charge of distributing images of a child in the nude, according to the Suffolk County District Attorney's office.

Police arrested Urbaniak, 39, at Our Lady of Czestochowa, a Polish church in the Archdiocese of Boston, on Tuesday.

After obtaining a search warrant, detectives seized Urbaniak's computer, where pornographic images of girls between the ages of 8 and 10 were found, according to the Boston Police Department.

The district attorney's office said that detectives had been investigating Urbaniak's activities on the Internet, observing files with names such as "pre-teen," "pedo" and "lolitas," hosted by an IP address linked to Urbaniak's computer at the parish's rectory. When they recovered his computer, it appeared to be in the process of sharing and downloading files.

"Troopers downloaded one suspect file and found it to contain a sexually explicit photograph of a child who appeared to be under the age of 14," the district attorney's office said.

The Archdiocese of Boston said Urbaniak had been placed on administrative leave. It said his provincial superior at his religious order in Poland had been informed, and that Urbaniak would not allowed to function as a priest in the archdiocese.

The archdiocese said in a statement that it was "fully cooperating with law enforcement.

"The Church prays for all those impacted by these events and is committed to providing for the pastoral care of the parish during this difficult time," it said.

Urbaniak, ordained in Poland in 1998, had been at Our Lady of Czestochowa since September 2008, said Kellyanne Dignan, a spokeswoman for the archdiocese.

The parish, which offers mass in English and Polish, is served by Franciscan friars. Urbaniak is listed on the church's website as part of the pastoral staff.

"He's a very decent man charged with very indecent circumstances," said Urbaniak's lawyer Jeffrey Denner.

Police said they were continuing their investigation.

Urbaniak was being held on $10,000 cash bail. Denner said he would be released on bail by Thursday.

Once released, Urbaniak will be required to wear a GPS monitoring device and surrender his passport. He is barred from Internet use and is to have no contact with children younger than 16.