Most Serious Sex Charges Tossed against Pa. Priest
By Maryclaire Dale
San Francisco Chronicle
August 16, 2012

http://www.sfgate.com/news/article/Most-serious-sex-charges-tossed-against-Pa-priest-3793184.php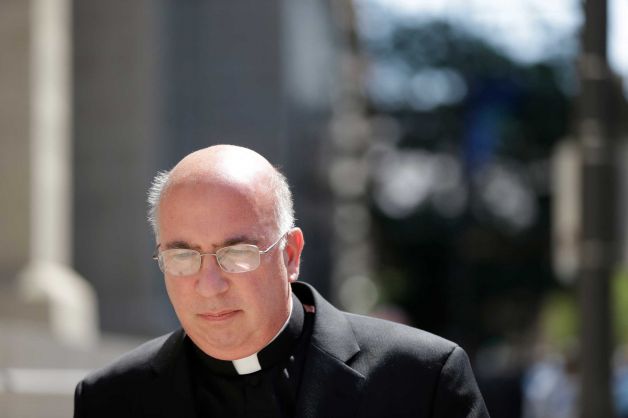 The Rev. Andrew McCormick walks from the Criminal Justice Center after a hearing, Thursday, Aug. 16, 2012, in Philadelphia. McCormick who is accused of sexually abusing a 10-year-old boy inside a rectory bedroom in 1997, faces misdemeanor counts of endangerment and indecent assault. Photo: Matt Rourke / AP



Prosecutors plan to appeal a judge's decision to dismiss the most serious sexual assault charges against a Philadelphia priest after the accuser described the alleged 1997 encounter at a preliminary hearing Thursday.

The Rev. Andrew McCormick, 56, remains on leave from the church, with a misdemeanor trial set for October.

But Philadelphia prosecutors — who recently prosecuted a landmark case over the church's handling of abuse complaints — vow to have the felony charges against McCormick restored.

The accuser's credibility was not at issue at the preliminary hearing, but the judge found the acts described did not meet the legal definition of sexual assault and deviant intercourse.

The accuser, now 24, testified that he was invited to the rectory and led up to the priest's bedroom after evening Mass.

He said McCormick partly undressed each of them, fondled him, straddled him on the bed and forced his penis into the boy's mouth.

Defense lawyer William J. Brennan successfully argued there was no penetration alleged, as required for the felonies charged. Municipal Judge Karen Yvette Simmons agreed to dismiss them, while upholding misdemeanor charges of endangering the welfare of a child, indecent assault and indecent exposure.

The accuser gave a detailed description of the priest's bedroom. On cross-examination, he said he had been an altar boy for about two years but could not name any other boys that served with him at St. John Cantius in northeast Philadelphia.

Prosecutors say he came forward in about January, prompted by news reports of the Penn State sexual assault case and the high-profile Philadelphia prosecution of Monsignor William Lynn, the former secretary for clergy at the archdiocese.

Lynn was convicted of child endangerment, while a former priest pleaded guilty to sexual assault before trial and the jury deadlocked on sexual assault charges against a third priest, another client of Brennan's.

Brennan called his timing "opportunistic."

"I have tremendous empathy for victims of sexual assault, clergy or otherwise," he said. "But there's a lot of people jumping on the gravy train, looking to sue the archdiocese and to sue priests."

McCormick is free on bail and due back in court Oct. 18.