Priest Pleads Not Guilty to Child Rape in Salem
By O'Ryan Johnson and Matt Stout
Boston Herald
August 31, 2012

http://www.bostonherald.com/news/regional/view.bg?articleid=1061157069&srvc=rss

[with video]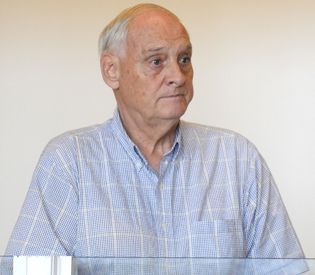 Reverend Richard McCormick is arraigned on child rape charges at Salem Superior Court. Ipswich police arrested the Rev. McCormick Thursday afternoon in New Rochelle, N.Y.



A former head of a Catholic order facing child rape charges had bail set at $1,000 this morning in Salem District Court.

Father Richard McCormick, arrested yesterday in New Rochelle, N.Y., pleaded not guilty to five counts of a rape of a child, charges stemming from the alleged repeated sexual assaults of a victim, then 11 and 12 years old, during 1981 and 1982 in Ipswich, according to the Essex County district attorney's office.

McCormick, 68, an active priest with no public duties, will reside at his order in New Rochelle and was banned by Judge Timothy Feeley from any unsupervised contact with minors. He was also told to stay away from the all-boys high school that is 100 yards away from the order.

McCormick has a decades-old history of alleged abuse that includes nine civil cases — including five from Boston dating back to the 1960s — but before now, had never been charged criminally, a lawyer representing the victims told the Herald.

Mitchell Garabedian, the Boston lawyer representing the alleged victim civilly, declined to comment on the current case, citing it as a "pending criminal matter."

But Garabedian said he's represented nine other victims who had their cases settled against McCormick, who once served as the provincial, or head, of the Salesians of Don Bosco's entire Eastern United States order.

"I have no knowledge of a high-ranking provincial ever being criminally prosecuted for sexual abuse," said Garabedian, who's represented more than 600 alleged victims of clergy abuse.

A message left with the current provincial of the Salesians in New Rochelle was not immediately returned this morning.

McCormick, according to Garabedian, served as provincial from 1986 to 1991, overseeing thousands of members in the order's Eastern Province, which is based in New Rochelle. Prior to that, he worked at the Salesians Boys & Girls Club in East Boston and at a summer camp retreat in Ipswich, where he is alleged to have abused five victims dating back to the 1960s, Garabedian said.

Garabedian also represented three men out of New York who said they were abused by McCormick in the 1970s, cases that were settled in 2009. McCormick was also accused of taking a boy from Indiana, where he served in a diocese in Gary, and sexually molesting him on a trip to Rome in the mid-1970s, Garabedian said.

All of the civil cases have been settled in the last decade, he said. Records show McCormick also worked at Don Bosco Technical High School in Boston in the mid-1990s and Dominic Savio Preparatory High School in East Boston during the 1960s, Garabedian said.

In 2002, McCormick resigned from a teaching post at Florida's St. Petersburg Catholic High School after a female student said he harassed her by greeting her with a kiss and hug in a school hallway.

According to a 2002 report in the Tampa Bay Times, students called McCormick "Father Mac" and said he was known to give students a kiss on the cheek.

"One of the things he always did say was he always was an affectionate man," one student told the paper. "He said that if you feel offended by it, tell me to stop. He told us that numerous times."

A pretrial conference date was set for Oct. 23 in Salem District Court. McCormick was ordered to stay within the confines of New York or Massachusetts, except when he travels for trial dates.