Priest Accused of Rape
By Paul Leighton
Salem News
September 1, 2012

http://www.salemnews.com/local/x85614413/Priest-accused-of-rape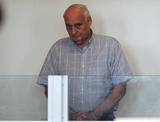 The Rev. Richard McCormick stands in handcuffs in Salem Superior Court during his arraignment yesterday afternoon. David Le/Staff photo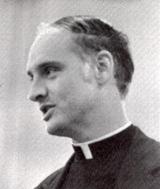 McCormick in a 1979 photograph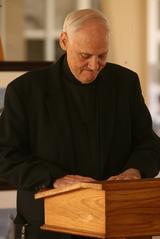 Angela Gaul/The Journal News The Rev. Richard McCormick prays during a groundbreaking ceremony for the renovated chapel at the Marian Shrine in Stony Point on April 24, 2007.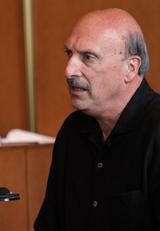 The Rev. Steve Dumais speaks on behalf of the Rev. Richard McCormick yesterday in Salem Superior Court, where McCormick was arraigned on five counts of child rape. David Le/Staff photo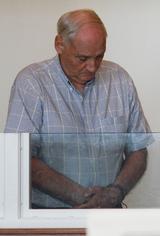 The Rev. Richard McCormick, a former high-ranking Catholic priest, was arraigned in Salem Superior Court yesterday afternoon. David Le/Staff photo



A former high-ranking Catholic priest repeatedly raped a boy at a summer camp in Ipswich 30 years ago, forcing the frightened victim to seek safety in the woods, on a fire escape and under a bunk, prosecutors said yesterday.

The Rev. Richard J. McCormick, 71, pleaded not guilty to five counts of child rape and was released on $1,000 cash bail to the custody of a fellow Salesian Brothers priest.

Ipswich police arrested McCormick on Thursday in New Rochelle, N.Y., where he lives at the Salesians' eastern U.S. headquarters. Standing in handcuffs yesterday in Salem Superior Court, McCormick said "not guilty" five times in a strong voice as a clerk read each of the five counts.

The victim came forward a year and a half ago, said Mitchell Garabedian, a Boston lawyer who has represented hundreds of victims of clergy abuse.

Garabedian said he has reached financial settlements on behalf of nine other victims of McCormick, but this is the first time that McCormick has been charged criminally.

"My client should be proud of himself for pursuing this criminal matter," Garabedian said. "It takes a lot of strength and courage."

Garabedian said McCormick abused nine victims from 1963 to 1982 in Massachusetts, New York and, in one case, in a convent in Rome.

McCormick is the former head of the Salesian Brothers of Don Bosco for the eastern United States, which includes thousands of members east of the Mississippi and in eastern Canada. Garabedian said the position is the equivalent of a bishop in an archdiocese.

The abuse of the current victim took place in the summers of 1981 and 1982 when the boy was 9 and 10 years old, prosecutor Kate MacDougall said. It happened at a summer camp run by the Salesian Brothers at the Sacred Heart retreat center on County Road in Ipswich, where the Salesian Brothers once had a seminary. The property is now the home of New England Biolabs.

McCormick's arrest came after a yearlong investigation by the Essex County district attorney's office and the Ipswich Police Department after the victim approached the district attorney's office.

MacDougall said McCormick singled out the victim because the boy did not have a father who was active in his life. She said the abuse took place both in the camp's office and in the boy's dorm room.

The victim was so afraid of McCormick that he would hide in the woods, on a fire escape or under his older brother's bunk during the night, MacDougall said.

McCormick stood with his head bowed as MacDougall made her comments.

MacDougall requested that McCormick be held on $75,000 cash bail, saying he had minimal ties to Massachusetts. But Judge Timothy Feeley ordered McCormick released on $1,000 bail in the custody of the Rev. Steven Dumais, the vice provincial of the Salesian Brothers of the eastern United States.

Dumais and McCormick both live in the Salesians' eastern U.S. headquarters in New Rochelle. Under questioning by the judge, Dumais said McCormick has been restricted from "public ministry" since 2008 and spends his time at the headquarters helping in the kitchen and with maintenance projects and working on the Salesians' archives.

Dumais said McCormick is not allowed to have contact with children.

"He has 24/7 supervision of all his activities," Dumais said.

Dumais said there has been no effort by the Salesian Brothers to remove McCormick from the priesthood. The previous allegations of abuse were not brought up in court.

Feeley ordered McCormick released under conditions that he remain in New Rochelle, report once a week to the probation office by phone, attend all of his court sessions in Salem and have no unsupervised contact with minors. Dumais, as his custodian, said he will ensure that those rules are followed.

MacDougall pointed out to the judge that there is a Salesian all-boys high school 100 yards from McCormick's residence. Feeley ordered McCormick to stay away from that school.

Dumais could not secure the $1,000 in cash for bail by a 1 p.m. deadline, so McCormick was taken to Middleton Jail. Dumais said yesterday that he hoped to raise the bail money soon.

Dumais said in court that he is also the victim assistance coordinator for the Salesians in his province and that he was "kind of torn in different ways" by the allegations against McCormick. He said he drove 3?

1/2 hours from New Rochelle to support McCormick in court.

Speaking with the media outside of the courthouse, Dumais said, "I support (McCormick) with a full heart, but I support the victim with a full heart, as well."

"It's a family, and when family's in trouble, you try to support them as best you can," Dumais said.

McCormick was represented in court by attorney Steve Neyman. McCormick is due back in court for a pretrial conference on Oct. 23.

The Salesians are the second-largest Catholic religious order in the world, founded by St. John Bosco, an Italian priest, in 1859 to serve poor and abandoned children.

The three men who settled with the Salesians in 2009 maintained they were abused by McCormick during the late 1970s when they were students at the now-closed Salesian Junior Seminary in Goshen, N.Y., where McCormick served as director for several years.

In 2002, McCormick resigned from teaching at St. Petersburg Catholic High School in Florida after a female student complained that he greeted her with a kiss and a hug in a school hallway.

After the 2009 allegations surfaced, the Salesians said they had "suspended Father McCormick from public ministry and unsupervised contact with minors pending review by our Provincial Review Board." The order noted that the 2009 settlement did not admit or deny liability.

Staff writer Paul Leighton can be reached at 978-338-2675 or pleighton@salemnews.com.

Material from The Associated Press and The Journal News in Westchester, N.Y., was used in this report.