Jesuit Alerts Alumni after Sexual Allegation against Former Teacher, Coach
CBS Sacramento
September 11, 2012

http://sacramento.cbslocal.com/2012/09/11/jesuit-warns-alumni-after-sexual-allegation-against-former-teacher-coach/

A former teacher, coach, and counselor at Jesuit High School has been accused of inappropriate conduct with a student. The allegation dates back to the 1960s.

The private all-boys Catholic high school has sent a letter to alumni. They want anyone who may have been harmed by Brother William Farrington to contact either the school or police.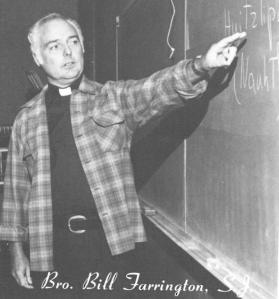 Brother William Farrington, circa 1985 (courtesy Jesuit High School)



It's an allegation that's more than 40 years old. A former student at Bellarmine Prep in San Jose claims Farrington sexually abused him in the late 1960s. Farrington went on to spend 11 years on the faculty at Jesuit.

"If someone is guilty of this 40 years later, they should still be held accountable, absolutely," parent Julie Whitney said.

Farrington was a counselor, teacher and swimming coach at Jesuit from 1976-1987. He was removed after two allegations of improper conduct with students there.

"At this point with the change of administration we've gone back and researched, we don't know what that impropriety was," school spokesman Jordan Blair said.

After his dismissal, Farrington was barred from teaching children. Still, there is a period of around 20 years between accusations where Farrington taught kids.

The alleged victim says he came forward out of concern for his former classmates, and Jesuit is asking other victims to do the same.

"To us, alumni are as important as the boys waking on campus today," Blair said.

This is the second sex abuse scandal to hit Jesuit High School in less then a year. Last October, an allegation was made against former teacher Rev. William Feeser prior to his stint at Jesuit.

"It's not upsetting to me that my son is here, no," parent Nancy Lucas said. "I trust the school."

Brother Farrington hasn't been allowed to be a minister since 2002, and he's currently being supervised a Jesuit infirmary.