Priest Accused of Sexually Abusing Girl Is Head of Fernley Women's Shelter
By Brian Duggan
Reno Gazette-Journal
September 12, 2012

http://www.rgj.com/article/20120912/NEWS/309110028/Priest-accused-sexually-abusing-girl-head-Fernley-women-s-shelter?odyssey=tab|topnews|text|FRONTPAGE&nclick_check=1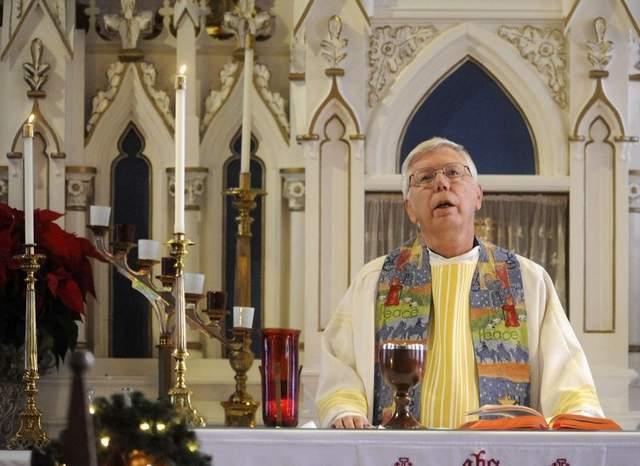 Father Tom Cronin leads the Christmas morning mass at Saint Mary in the Mountains Catholic Church in Virginia City in 2009



Thomas Cronin, a suspended Catholic priest accused of sexually abusing a 17-year-old girl in Missouri in 1979, is also the president of a Fernley-based women's shelter called Rachel's Sanctuary.

Three members of a victims advocacy group called the Survivors Network of Those Abused By Priests gathered in front of the offices of the Catholic Diocese of Reno on Tuesday to call attention to Cronin's involvement with the organization.

"We want to bring things to light and make the community more aware," said Tim Lennon, a member of SNAP, adding the diocese in Reno should do more to make people aware of Cronin's affiliation. "We think there could be more, there has to be more and we're demanding more."

Cronin was placed on suspension by the Catholic Diocese of Kansas City-St. Joseph in October 2010 when a civil lawsuit was filed in Kansas City, Mo., accusing him of molesting and sexually assaulting the teenager at the Sacred Heart Parish in Hamilton, Mo., more than 30 years ago.

Cronin has denied the allegations, which are still pending in the Missouri court system.

Cronin came to Nevada in 1998 and was the pastor at St. Robert Bellarmine in Fernley from 2000 to 2004. When he was placed on suspension, Cronin was the pastor at St. Mary's in the Mountains in Virginia City, where he is still an active member of the parish.

As a result of his suspension, Cronin cannot perform his priestly duties, meaning he's barred from officiating at a Mass or other celebrations such as marriage.

In an interview Tuesday, Cronin said he founded Rachel's Sanctuary in 2006 and is still listed as the organization's president, according to the Nevada Secretary of State's office.

While the shelter is still registered with the state of Nevada, Cronin said the shelter is effectively inactive because it lacks funding and a home to house the women. The pending litigation has also played a role in the organization's inactivity.

"Well, I haven't been doing much with it because the other people that were involved moved away and because I have this lawsuit that SNAP references," he said by phone.

William Bauer, who is the treasurer of Rachel's Sanctuary, said the organization lost much of its funding as a result of the recession.

"We used to have a house, but the people who were paying for the house for us ran into financial trouble," Bauer said. "If there are women who need help, what we do is we'll put them up temporarily."

Bauer also defended Cronin.

"These days if you're tarred with the sex brush you can't do really anything, really," he said. "I think SNAP is more interested in denigrating the Roman Catholic church than it is protecting any kind of women."

Calls for comment to the Lyon County District Attorney's office regarding Rachel's Sanctuary were not returned.

While Cronin is still an active member of St. Mary's in the Mountains in Virginia City, Brother Matthew Cunningham in Reno said Cronin is not performing any of his priestly duties.

"He has no faculties from this diocese to function as a priest in any capacity because those faculties were removed from him by his bishop in Kansas City who is responsible for him," Cunningham said. "We have no responsibility to him other than to make sure he does not celebrate the sacraments that he is forbidden to do."

Cunningham added, "He can attend mass like any other parishioner could."

Mary Bowers, the secretary of the St. Mary's in the Mountains Catholic Parish Corporation, said Tuesday that Cronin is not a paid employee of the parish, but is involved with activities there.

That includes promoting several events for the 150th anniversary of the St. Mary's parish founding, which will include a banquet in Virginia City on Saturday.