Former Texas Priest Identified As Reno Man Arrested for Fondling Himself on Airplane
By Jaclyn O'Malley
Reno Register-Journal
September 12, 2012

http://www.rgj.com/article/20120912/NEWS/309120158/Former-Texas-priest-identified-Reno-man-arrested-fondling-himself-airplane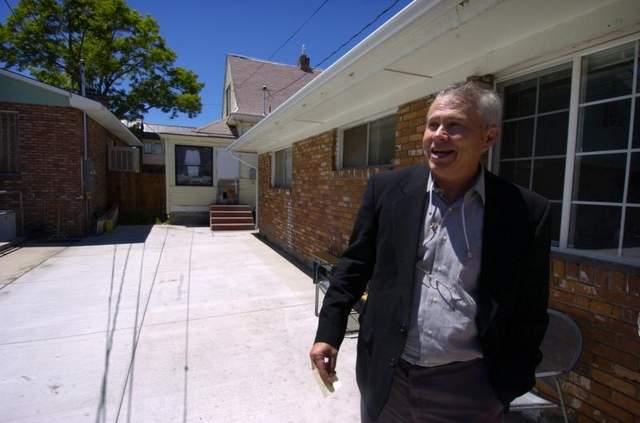 Daniel Drinan, who was arrested in Denver for masturbating on a commercial air flight while viewing Internet pornography, is seen in this file photo at the Ridge House complex on First Street in Reno in 2005.



The Reno man arrested in Denver for masturbating on a commercial air flight while viewing Internet pornography is a former priest from Texas who was removed from the church, a diocese official said.

Daniel Michael Drinan was ordained in 1977 with the Eastern Province of Claretians and had served the Austin (Texas) Diocese as a Claretian priest, said Christian Gonzalez, communications director for the Diocese of Austin. He said Drinan had not been a priest of the Austin diocese.

In 2002, then Bishop Gregory Aymond of the Austin diocese removed Drinan from his priestly duties after he was made aware of an allegation against Drinan of inappropriate behavior with a minor, Gonzalez said.

According to the Austin American-Statesman's coverage, a child's family reported to police they did not like the way Daniel Michael Drinan had touched the child. However, a criminal investigation revealed no injury or sexual contact, and he ultimately faced a misdemeanor assault charge that a police spokeswoman likened to a speeding ticket, according to the newspaper.

It carried no jail time, only a fine the police spokeswoman said Drinan's laywer was making arrangement to pay, the Statesman reported.

Drinan was then sent back to the Claretians, who in 2006 expelled him from their order, according to Gonzalez, who said he was not aware of the reason behind the expulsion.

The Claretians headquarters in Chicago said Wednesday in a statement that Drinan left them in February 2006, and that he was last known to be working in Reno. A call to a spokesman for further clarification was not immediately returned Wednesday.

Phone calls to a Reno number listed for Drinan went unanswered Wednesday. There was no option to leave a message.

Drinan's professional ties to Reno were between 2003 and 2006, when he served as the executive director for a local nonprofit organization, the Ridge House, that helps parolees with substance abuse issues, said Steven Burt, Ridge House executive director. Burt said Drinan resigned his position because of stress, and that his departure was not because of any allegations of wrongdoing. He said Drinan had not acted as a priest in his role in the organization.

According to a July/August 2008 Austin Diocese newsletter, Drinan had been a popular pastor at a Central Texas church, Immaculate Heart of Mary Parish in Martindale, Texas, which served the Mexican-American Community. It said he was removed in 2002 after he was accused of "inappropriate behavior with a child." The newsletter said the loss of their "charismatic pastor" threw the parish into turmoil.

Despite police finding no serious wrongdoing, Aymond said Drinan would not be allowed to return to the parish after an internal investigation revealed other issues about Drinan, according to the Statesman. Aymond declined to specify these issues, the newspaper said, and Gonzalez on Wednesday said he did not have information related to those unidentified issues.

"… in my opinion, he should not serve in the priestly ministry at this time," Aymond was quoted as saying in the article.

While serving the Martindale, Texas church beginning in 1999, Drinan also was a priest at its sister church in a nearby town called Uhland, Texas, Gonzalez said. He was banned from working as a priest there, too, he said.

A media statement issued Tuesday by the Survivors Network of those Abused by Priests, SNAP, regarding Drinan's airplane fondling arrest, said they strongly suspect similar situations occurred in the past, and urged the current Austin bishop to investigate possible past victims.

A criminal complaint filed in federal court in Denver alleges that Drinan was seen by a female passenger masturbating in his seat on a Southwest Airlines flight from the Baltimore-Washington International Airport to Denver. The woman said he was fondling himself while watching pornography on his laptop.

A female flight attendant also witnessed the incident, saying his genitalia was exposed, the complaint said. A male flight attendant, who also saw Drinan fondling himself, told Drinan to get his pants together.

Drinan was arrested at Denver International Airport following an interview with an FBI agent. He was later released on his own recognizance and ordered to not fly on commercial airlines. Drinan was scheduled back in court later this month where he faces a punishment of up to 90 days in jail.

"I'm guilty of fondling myself in public," the complaint quoted Drinan. "I'm sorry. I had no intention of doing anything that would offend people or break the law."

Drinan said he used the aircraft's Wi-Fi to look at "an erotic site" on his laptop, the complaint said.

"He became aroused and was touching himself," the FBI agent wrote of his interview with Drinan. "He decided to touch himself because the lights were out on the aircraft and no one was seated next to him, and he was tired and wanted a release."