Jesuit Accused of Sexual Molestation Spent 15 Years Working at Lmu
By Zaneta Pereira
The Loyolan
September 17, 2012

http://www.laloyolan.com/news/jesuit-accused-of-sexual-molestation-spent-years-working-at-lmu/article_b154e78a-0085-11e2-8295-0019bb30f31a.html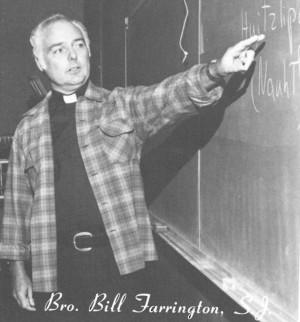 Jesuit High



The latest alleged sexual abuse scandal committed by a member of the Roman Catholic clergy hits close to home for LMU as the accused Jesuit, Brother William Farrington, S.J., spent 15 years on the University's campus from 1987 until his retirement in 2002.

The allegations against Farrington were brought to light last Tuesday, Sept. 11, via a letter sent out to hundreds of graduates of San Jose's Bellarmine College Preparatory, where Farrington worked as a dormitory supervisor and a coach for the swim and dive teams. In the letter, a man who attended the Catholic high school in the 1960s came forward with the accusation that he had been sexually molested on campus by Farrington, according to the Sept. 13 Mercury News article, "Bellarmine abuse controversy still has plenty of questions remaining." The man also urged anyone who "might have been victimized by Farrington in the mid-1960s to 1970s to come forward," according to the same article.

The accuser's letter was supported by an email sent from Bellarmine Prep's president, Fr. Paul G. Sheridan, S.J, who called the claims of abuse "credible."

The same day, Fr. David Suwalsky, S.J., president of Jesuit High School in Carmichael, Calif. where Farrington taught and coached swimming and diving after leaving Bellarmine Prep in 1974, also sent out an email to Jesuit High alumni informing them of the allegations and calling anyone who may have been abused by Farrington to contact law enforcement authorities. Farrington was moved from Jesuit High in 1987, the same year that school officials revealed that two students came forward with allegations of "improprieties" against Farrington, according to the Sept. 12 Sacramento Bee article, "Ex-Jesuit High teacher accused of inappropriate conduct with student."

According to the Sept. 12 Mercury News article "San Jose: Bellarmine says accusation of abuse by Jesuit in late 1960s is 'credible,'" Farrington's removal from Bellarmine Prep was in response to a different allegation, but the school has not disclosed further details as of Loyolan deadline.

The Sept. 12 Bee article further reports that, according to Jordan Blair, Jesuit High's spokesman, 1987 was also the year in which Farrington was "barred from working with minors." Farrington was then moved to LMU, an assignment which the article reports was criticized by family members of the Jesuit High victims, according to Patrick Walsh, spokesman for the Jesuits of the California Province.

Walsh told the Mercury News that the allegation was made public at this point because the Bellarmine Prep victim "reached a point where he wanted to come forward and wanted other people to know, just in case they had a similar experience and also wanted to come forward," a sentiment that was echoed in the emails sent out by Bellarmine Prep and Jesuit High. The article added that the individual does not have a lawsuit pending.

Despite Farrington's 15 years at LMU, the University has yet to publicly comment on the scandal surrounding him. When asked whether the University would be sending out emails similar to those from Bellarmine Prep and Jesuit High, Kathleen Flanagan, LMU's vice president for communications and government relations, stated, "As far as I know, there was nothing that happened at LMU, so there would be no reason to do it. We're not aware of any accusation while he was at LMU." University President David W. Burcham is currently traveling and, as of Loyolan deadline, could not be reached for comment.

It is not known whether LMU was made aware of the allegations of abuse against Farrington when they hired him as, according to Flanagan, "the Jesuits keep the personnel files on him." According to Flanagan, all LMU's records indicate is that "he was a staff member and he was employed in the area that is now called enrollment management."

Flanagan was also unable to confirm whether Farrington lived on campus in the Jesuit Community. Acting Superior of the LMU Jesuit community Fr. Allan Deck, S.J., declined to comment, instead referring the Loyolan to Walsh. As of Loyolan deadline, Walsh was unavailable for comment.

It remains unclear how, after prior allegations against him and being barred from working with minors, Farrington was allowed to continue working on the same campus as college students, some of whom could have been under the age of 18.

Thomas Plante, a psychology professor at Santa Clara University and a member of the religious order's California review board, is quoted in the Sept. 13 Mercury News article saying that, "The thinking then probably was, 'We've got to keep this person away from kids, so put him in a college environment.' … Looking at it from the 2012 perspective, we can see that they never should have wanted him on a campus around young adults because that still was a problem."

According to Patrick Wall, a former Benedictine monk, priest and canon lawyer who has assisted prosecutors and civil lawyers on Roman Catholic sexual abuse cases around the country and has been involved in litigation with the Jesuits of the California Province since 2002, this move is representative of the Jesuits' "policy of a geographic solution. When they have a problem, they move him to an area where he's not known."

This strategy, however, is one that "happened in every institution, whether it's school districts, churches or sports organizations. This was particularly a problem in the 1960s, '70s and well into the '80s, and it's tragic," according to Plante's comments in the Sept. 13 Mercury News article.

Wall, who defended clerical sexual abuse cases from 1991 to 1998 before leaving the monastery and priesthood to get married, is also unconvinced by the lack of reported abuse during Farrington's time at LMU. According to him, the accepted view of people like Fr. Gerald Fitzgerald, C.S.C., founder of the Servants of the Paraclete, an order established to deal with problem priests, and Fr. James Gill, S.J., a Jesuit priest and psychiatrist who was a recognized expert on psychosexual issues, is that clergy who are sexual offenders "can't stop themselves." Wall told the Loyolan that those familiar with cases of priests accused of sexual abuse have found that "these are not periodic instances or periodic episodes. It's not like all of a sudden you can change."

Farrington currently resides in the Sacred Heart Jesuit Center, a facility for elderly Jesuits in Los Gatos, Calif. according to a separate Sept. 12 Mercury News article titled, "Jesuit in Bellarmine abuse case also accused of misconduct at Sacramento school." The same article states that Farrington's "restrictions are reviewed annually by a lay advisory board that includes local medical professionals, law enforcement and business leaders." The article also reports that, according to Walsh, "Farrington is now 71 years old and has not left Sacred Heart without an escort since 2002. He lives in an infirmary designed for elderly priests and does clerical work there."

Farrington has declined to comment publicly.