Blast from the Past: 'Porno Priest' John Bauer Dies in California Prison
By Whitney Bermes
Bozeman Daily Chronicle
September 19, 2012

http://www.bozemandailychronicle.com/blogs/beyond_the_blotter/article_4d73f0b2-029c-11e2-a77e-001a4bcf887a.html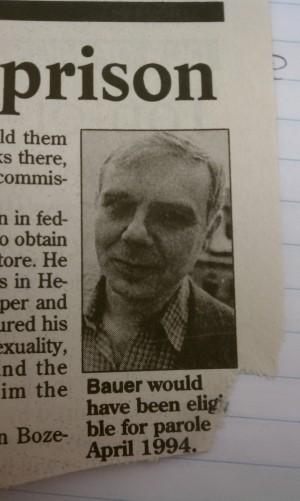 The 'porno priest' John Bauer.



This headline jumped out at me when I was flipping through the archives today. Quite an interesting story. Enjoy.

"'Porno priest' John Bauer dies in California prison" - By Joan Haines, Oct. 29, 1992

John Bauer, the former Catholic priest who opened Bozeman's only adult book store and became known as the "porno priest," died Monday night in a medium-security federal prison i San Luis Obispo, Calif.

Bauer, 55, a Bozeman native, was serving an eight-year term in the California Men's Colony after pleading guilty in 1990 to three counts of producing and distributing child pornography.

Prison authorities told Pete Ramsey of Santa Barbara, a friend of Bauer's Monday evening that he died of a massive heart attack. Ramsey said Bauer had been ill, suffering from high blood pressure. Chief Deputy Coroner Don Hines said today Bauer died of coronary artery disease.

Bauer was arrested in January 1990 near Spokane after spending eight months evading California police. He pleaded guilty to production and commercial distribution of child pornography and conspiracy to produce and distribute child pornography, Los Angeles Police Department Detective Bill Dworin said today. Bauer would have been eligible for parole in April 1994.

Bauer recruited young Mexican boys to pose in sexually explicit videotapes, and was part of a four-person pornography ring, the detective said.

A Montana State University teacher for more than a decade, Bauer held the job of teacher's aide in prison.

Bauer began his career as a Roman Catholic priest. Ordained in 1963, he was a parish priest in Anaconda. He later served as director of Catholic Charities in Helena.

He taught social work classes full time in MSU's sociology department from 1970 through 1981, according to MSU sociology professor Paul Lawson. When the social work option in the department was discontinued, Bauer began looking for another way to earn a living.

He opened Ms. Kitty's Adult Shop in downtown Bozeman in 1981 after a legal flap with the City Commission over whether he could purchase a city license. In April 1981 he applied for a license to operate the "Bozeone Book Store." The City Commission suspended the license because commissioners said he hadn't told them he intended to sell adult books there, Robin Sullivan, clerk of the commission, said today.

Bauer sued the commission in federal court, and won the right to obtain a license and open the book store. He later opened adult book stores in Helena and in Spokane. Newspaper and national magazine stories featured his outspoken comments about sexuality, society's repressiveness and the priesthood, and dubbed him the "porno priest."

He had sold Ms. Kitty's in Bozeman before his arrest.