Pastor of Ascension Parish Suspended for Abuse Allegations
Catholic Philly
September 20, 2012

http://catholicphilly.com/2012/09/news/local-catholic-news/pastor-of-ascension-parish-suspended-for-abuse-allegations/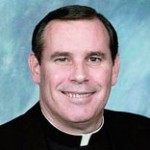 Father Michael Chapman



Father Michael Chapman, 56, pastor of Ascension of Our Lord Parish in Philadelphia, has been placed on administrative leave by Archbishop Charles J. Chaput following allegations of sexual abuse of minors.

The priest was suspended in March 2011 for an alleged violation of the Standards of Ministerial Behavior and Boundaries, the Archdiocese of Philadelphia's guidelines for conduct by all church personnel.

After a probe of the allegation by a team of investigators and evaluation by the Archdiocesan Review Board, Archbishop Chaput found Father Chapman suitable for ministry in May 2012 (background).

The archdiocesan Office for Child and Youth Protection, as part of the Honesty, Healing and Hope in Christ parish restoration initiative, consequently began working with Ascension Parish to prepare for Father Chapman's return to ministry. Before he returned, the Archdiocese received allegations of sexual abuse of minors against Father Chapman in May 2012.

The abuse reportedly occurred approximately 30 years ago. The Archdiocese immediately reported the new allegations to law enforcement and delayed Father Chapman's return to the parish. Since the time the allegations were received, Father Chapman has not been exercising his ministry publicly or residing at an archdiocesan parish.

After an initial investigation by the archdiocesan Office for Investigations, the Archbishop placed Father Chapman on administrative leave.

An announcement was made at Ascension of Our Lord Parish last weekend and counselors were available.

Father Chapman was ordained in 1982. He served at the following parishes, schools and offices: St. Bonaventure, Philadelphia (1982-1986); Little Flower High School (1983-1985); St. Agnes, West Chester (1986-1990); St. Henry, Philadelphia (1990-1991); Priest Vocation Coordinator for the Hispanic Apostolate (1990-1994); Hispanic Ministry Coordinator for Montgomery County (1991-1992); St. Veronica, Philadelphia (1994-1999); Cathedral Basilica of SS. Peter and Paul (1999-2001); Ascension of Our Lord, Philadelphia (2001-2011); placed on administrative leave (2011).

People wishing to report a violation of Standards of Ministerial Behavior and Boundaries should contact the archdiocesan Office for Investigations at 1-888-930-9010. Those who wish to report an allegation of sexual abuse should contact local law enforcement agency and/or the Office for Investigations.

Victims of sexual violence who need support or assistance may call the Victim Assistance Office of the Archdiocese of Philadelphia at 1-888-800-8780 or philavac@adphila.org.