Bishop Kevin W. Vann to Succed Bishop Tod D. Brown
Roman Catholic Diocese of Orange
September 22, 2012

http://www.rcbo.org/news-and-events/diocesan-news/608-bishop-kevin-w-vann-to-succed-bishop-tod-d-brown.html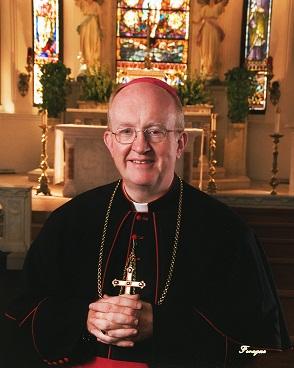 Bishop Kevin W. Vann



Orange, CA (September 21, 2012) --- His Holiness, Pope Benedict XVI has announced today that Bishop Kevin W. Vann (61) will succeed Bishop Tod D. Brown as the Bishop of Orange. Bishop Vann, the current Bishop of Fort Worth, Texas, will be installed as the fourth Bishop of Orange in December. Bishop Brown was advised of the new appointment by the Papal Nuncio, the official representative of the Holy See for the United States, Archbishop Carlo Maria Vigano.

Bishop Brown, who was appointed the Bishop of Orange on the 30th of June 1998, reached the mandatory retirement age last year and completes 14 years of service as the leader of the tenth largest Roman Catholic Diocese in the United States. The Diocese is comprised of 62 parishes and diocesan centers and has a population of 1.2 million Catholics.

Bishop Vann has distinguished himself during his seven year tenure as Bishop of Fort Worth and in prior assignments as priest, pastor and member of important Church committees and panels. He is recognized for innovative parish-based and diocesan initiatives and a leading member of the US Conference of Catholic Bishops' Committee on Migration. Working within the Texas Catholic Conference, Bishop Vann has encouraged comprehensive immigration reform in the State of Texas and nationally.

His outreach to all immigrant communities, including the growing Vietnamese and Asian populations now present in Texas, will be important assets when beginning his assignment in the multi-cultural Diocese of Orange. Bishop Vann is fluent in Spanish and Italian and is developing his Vietnamese language skills.

A native of Springfield, Ill., Vann is an accomplished pianist, an expert in canon law and gifted organizer. When installed as Bishop in 2005, the Diocese of Fort Worth served 400,000 area Catholics. Under his leadership the Diocese of Fort Worth has become a larger and more dynamic Catholic community serving over 700,000 Catholics, more than 50 percent being Hispanic.

Much of Ft. Worth's diocesan growth is credited to Vann's expansion of existing parish communities and an estimated $135 Million in widespread capital improvements. These improvements included the construction of one of the largest Catholic Churches in the United States serving a Vietnamese congregation - the Arlington (Texas) Vietnamese Martyrs Church. He restructured the local Catholic School system to a cost-based tuition system to ensure the financial viability of each school, while also creating a multi-million dollar scholarship fund to provide tuition assistance. His leadership further contributed to the expansion of Catholic Charities in the region and the opening of a new facility to accommodate that ministry's growing needs. During Bishop Vann's tenure the number of seminarians, ordained priests, women religious and lay Catholics serving the Diocese of Fort Worth has significantly increased. In 2012, the Diocese established a new parish to serve university students and a new elementary school.

Bishop Vann was instrumental in the development of the Personal Ordinariate of the Chair of St. Peter - to allow for the ordination of former Anglican priests and to accept former Anglican communities into the Catholic Church. One former Anglican priest was recently ordained a Catholic Priest by Bishop Brown to serve in the Diocese of Orange.

Bishop Vann is the Ecclesiastical Delegate of the Holy See for the Pastoral Provision in the United States, which was established by Pope John Paul II in 1981 to accommodate full communion with the Catholic Church for Episcopal priests and laity.

In response to Bishop Vann's appointment as his successor, Bishop Brown said:

"The Diocese of Fort Worth has enjoyed a dynamic period of growth and the demands for comprehensive pastoral services there are not unlike those we have experienced, here in the Diocese of Orange. Bishop Vann enjoys an enviable record of success and I am exceedingly pleased by his appointment as my episcopal successor.

"While we have accomplished much in the years since I succeeded Bishop Norman MacFarland, including the recent acquisition of the former Crystal Cathedral and its campus, much work remains to be done. This work will require an administrator with proven skills and a spiritual leader with an abundance of faith. Bishop Kevin Vann has these attributes and much more. We are all blessed by his selection and I assure you - that I will do all I can to help make his transition to this important new responsibility enjoyable and productive.

"I plan to address the Diocese sometime soon and to reflect on the journey we have taken together. For now, the news is not about me - it is about our Diocese of Orange stepping into the future with its dynamic new leader.

"Let us celebrate this news and warmly, welcome Bishop Vann into our spiritual lives and our diocesan community."