Philadelphia Archbishop Charles Chaput Talks to Parents of Victim of Clergy Abuse during Trip to Harrisburg
By Ivey Dejesus
The Patriot-News
September 25, 2012

http://www.pennlive.com/midstate/index.ssf/2012/09/in_harrisburg_to_meet_lawmaker.html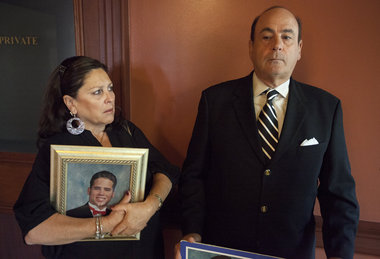 Elaine and Art Baselice traveled from New Jersey Tuesday to the Pennsylvania State Capitol and met with Philadelphia Archbishop Charles Chaput, who was in town to meet legislators. Advocates for victims of sex abuse are seizing opportunity to press Chaput to support pending legislation that would reform state laws against child sex crimes predators. MARK PYNES, The Patriot-News



Ever since their son killed himself in 2006 after years of enduring sexual abuse at the hands of his priest, Art and Elaine Baselice have been trying to get a private audience with a high-ranking Catholic Church official.

On Tuesday, they left their New Jersey home at dawn and headed for Harrisburg where Philadelphia Archbishop Charles Chaput was expected to meet with legislators.

The Baselices stood in the dim hallway of the Capitol's East Rotunda, she holding a framed portrait of their son Arthur; he a poster that included photos of the two abusive priests.

The Baselices did not leave the state Capitol disappointed: After meeting with lawmakers and shaking hands with state employees who stopped by to greet him, Chaput asked to meet with the couple.

"He was apologetic. He was understanding. He was sorry," said Elaine Baselice, unable to fight back tears. "He would like to see things changed."

The Baselices said they came to Harrisburg to bring attention to House Bill 2488, a pending legislation that would reform the laws that penalize child sexual predators.

"I'd like to appeal to him to level the playing field. To give victims a chance," Baselice said. "The Catholic Church in opposing (HB)2488 is not only protecting and enabling the perps they keep hidden but also perps from other walks of life. They are protecting all pedophiles."

Chaput said he agreed to meet legislators with no one specific topic on the agenda. He said they discussed education and the upcoming election, but not the pending bill to reform penalties for child sex offenders.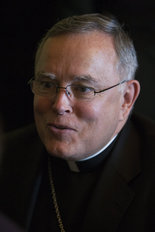 Philadelphia Archbishop Charles Chaput said reform to child sexual predator laws must not single out the Catholic Church. MARK PYNES, The Patriot-News



"My position has been very clear for a lot of years," said Chaput, who was installed a year ago amid an explosive lawsuit against the archdiocese. "I want the Catholic Church to be treated equally. If the state decides that certain changes have to be made, I hope it applies to everybody not just to private entities but to also public entities, public schools as well as Catholic schools."

The proposed legislation would reform the statute of limitation for child sex-abuse cases, something victims advocates have long said is necessary to empower victims constricted not only by the limitations of the law but their own trauma to report abuse committed years ago.

Efforts to reform the law, first launched after the first grand jury report out of Philadelphia seven years ago, most recently gained traction as House Rep. Louise Bishop (D-Philadelphia) and Rep. Michael McGeehan (D-Philadelphia) for months pushed for a vote and passage on their pieces of reform legislation.

Bishop's bill would have abolished the age limit for victims of child sex abuse in Pennsylvania to file charges: currently 50 for criminal charges and 30 for civil charges. McGeehan's bill would have installed the two-year suspension for civil suits.

Both bills stalled in the House for months and eventually failed to progress.

House Bill 2488, co-sponsored by Reps. Ron Marsico (R-Dauphin) and Thomas Caltagirone (D-Berks), borrows and tweaks the language of those pieces of legislation, but with one caveat: The proposal to install a two-year window during which all statute of limitations would be suspended has been removed.

"That two-year window tool is hands down the strongest tool to protect children to us, however it's also a tool that has attracted the most opposition from Chaput and from the Insurance Federation of Pennsylvania for similar but different reasons," said John Salveson, founder and president of the Foundation to Abolish Child Sex Abuse.

Salveson said the church is trying to avoid trials similar to the one in Philadelphia this summer that spanned months and involved reams of decades-old evidence and testimony.

In July, Msgr. William J. Lynn was sentenced to three to six years in prison after a jury found him guilty of child endangerment. The landmark case marks the first time a church official has been charged and convicted in the church sex-abuse scandal.

The insurance sector, Salveson said, is protecting its interest.

"Politicians in Harrisburg get intense pressure from the Pennsylvania Catholic Conference and the Insurance Federation of Pennsylvania," he said.

Amy Hill, spokeswoman for the Pennsylvania Catholic Conference, the church's legislative arm, said the organization supports measures to strengthen mandatory reporting and background checks.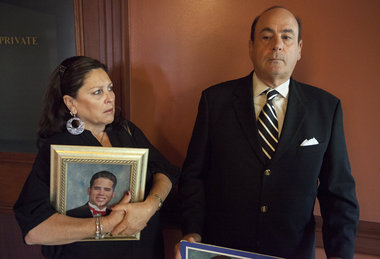 Elaine and Art Baselice wait outside a conference room at the Pennsylvania State Capitol where Philadelphia Archbishop Charles Chaput met with legislators Tuesday morning to talk about school choice. Advocates for victims of sex abuse are seizing opportunity to press him to support pending legislation that would reform state laws against child sex crimes predators. MARK PYNES, The Patriot-News



"We feel very strongly it will help support children and help put the bad guys in jail," Hill said. "It certainly raises awareness. That's what I really think this boils down to. Adults need to be more aware of child abuse and signs of child abuse and stop it and prevent it from happening in the first place."

The passage of time hinders an individual's, church's or organization's ability to defend against allegations decades old.

"Over time witnesses' memories fade, evidence is lost or never found, and in many instances perpetrators or witnesses may be deceased," she said.

Legislation to change the civil statute of limitations or open a "window" would not apply to victims who were harmed by public school personnel because of the legal doctrine of "sovereign immunity," Hill said.

The current bill would raise the age limit to 50 and remove the statue of limitation for future cases.

"That's a good thing however there are thousands of perpetrators out there who are protected by these statutes and the only way to expose them is to open that two-year window," Salveson said. "They can't be criminally prosecuted"

Salveson, a survivor of child sexual abuse, said advocates would continue to push for the two-year window suspension.

He said the Jerry Sandusky scandal and recent reports of abuse within the Boys Scouts of America program underscore the urgency for the need for HB2488.

"If it's not going to pass now, what else would it take," he said.

For now, HB 2488 moved to the House Rules Committee after receiving unanimous bipartisan support from the Judiciary Committee in June.

"I'll be honest with you, it's unlikely that it will come up for a committee vote and a vote before a full House this legislative session because of the fact we only have a few legislative dates between now and the end of session," said State Rep. Thomas Murt, (R-Philadelphia County). "I would say that's not realistic."

By the time the Baselices emerged from their impromptu meeting with Chaput Tuesday morning, the New Jersey couple struck a tone of compromise.

Their son, Arthur, once a straight-A student, developed a heroin addiction after years of sexual abuse at the hands of priest Charles Newman, former president of Archbishop Ryan, the largest Roman Catholic high school in Philadelphia.

Newman was sentenced to prison in 2009 for stealing nearly $1 million from his religious order. Their son killed himself in 2006.

They said they support Chaput's call that any reform to child predator laws apply across the board to all entities.

"I agree with him," Art Baselice said. "Anybody who molests a kid, I don't care who you are, who you work for, you need to be held accountable. If you are going to level the playing filed everybody has to be held accountable."

He said Chaput asked them to return to the church.

"No," Art Baselice said. "I'm responsible for my own salvation."