Father Ronald Bollich: Two More Men Accuse Beaumont Diocese of Negligence in Alleged Abuse
By Craig Malisow
Houston Press
September 27, 2012

http://blogs.houstonpress.com/hairballs/2012/09/beaumont_bollich_priest_lawsuit.php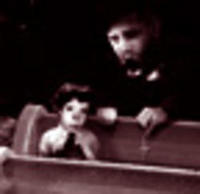 We're not surprised that more people have stepped forward in the suit against Father Ronald Bollich.



Two more men have joined a lawsuit accusing a deceased Beaumont priest of molestation.

Identified as John Does, the two men join another anonymous plaintiff who sued the Roman Catholic Diocese of Beaumont and Bishop Curtis Guillory in April over abuse that allegedly occurred in 1976 and 1977. The accused priest, Father Ronald W. Bollich, died in 1996 at age 59.

The new plaintiffs' allegations include a night of near-naked "wrestling," in which Bollich plied boys with alcohol while spending the night in Bollich's quarters in the rectory. After telling two of the plaintiffs and at least one other boy to strip down to their underwear, Bollich wrestled with the boys, pinned them to his bed, and "began pawing and groping the boys' genitals," according to the suit.

In another alleged incident involving a new plaintiff, Bollich "pushed the boy's head and mouth down towards his erect penis."

"Confused and scared, [the plaintiff] cannot recall exactly how long he was pressed in this position," the suit claims.

The suit, filed by Dallas attorney Tahira Khan Merritt, claims that the Diocese and Bishop "concealed Father Bollich's psycho-sexual disorders and covered up his crimes to avoid scandal...."

The plaintiffs seek damages including physical pain and mental anguish.

Merritt stated in a press release that the plaintiffs "have come forward to reach out to others who may have been sexually abused by Father Bollich and to protect other potential victims from harm. They are asking anyone who has pertinent information about Father Bollich...to please come forward and also report their abuse to law enforcement."

The Diocese declined comment when the suit was filed in April. We'll update if anything changes.