When the Levees Leak: New Orleans Jesuits and Fema
What They Knews
October 2, 2012

http://vu2103.katla.orangewebsite.com/when-the-levees-leak-new-orleans-jesuits-and-fema/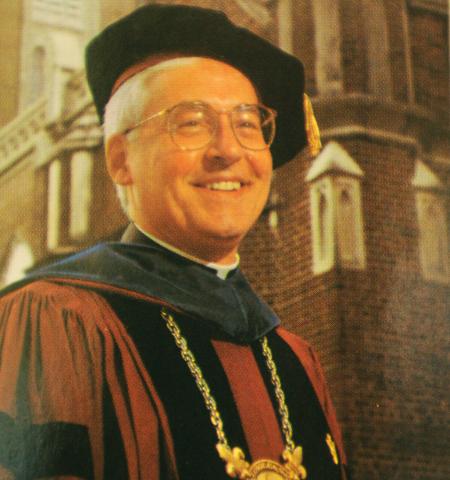 Chicago Jesuit Bernie Knoth SJ knew to leave when the Big Easy wasn't so easy anymore



[with video]

[with pdf]

Department of Homeland Security FEMA

In a newly discovered document obtained by this site, the New Orleans Province of the Society of Jesus (Jesuits) are being investigated by Homeland Security over accusations arising from an audit that outlines misuse, fraud and failure to handle FEMA grant funds in violation of federal law involving post Hurricane Katrina construction.

Living in "The Big Easy" post-Hurricane Katrina was not easy for most people. But it was much easier for Jesuits. Unlike most people, who worry about death and taxes, Jesuits have to worry about neither. They pay no federal taxes and are not even required to outline their wealth to the IRS as a religious organization "who has taken the vow of poverty". Yet when Hurricane Katrina didn't spare the New Orleans Jesuit Province and their school Jesuit High, the Jesuits deftly swooped in to seize over $11 million in federal tax payer funded relief from FEMA in the form of grants. That in and of itself is not shocking. What is shocking and likely criminal is what the Jesuits then did with that free federal tax payer money. Read all 10 pages and look at the numbers below.

The document above outlines the illegal activity in awarding contracts for construction and services for over $12 million dollars. The major charge leveled against the Jesuits is the awarding of cost-plus-percentage of cost (CPPC) contracts in violation of federal law. CPPC is a method of contracting or a type of contract under which the contractor is not only reimbursed his performance costs but is also paid a stated percentage of his cost. These mark-ups, or cost-plus-percentage-of-cost terms, are prohibited under FEMA reimbursement rules because they provide an incentive to maximize costs and have been illegal under federal law for a long time. In some instances this documents describes contracts that awarded contractors cost plus up to 42%.

Also included in the investigation is the Jesuit use of double or duplicate funding for claims of damage to their school. Jesuit High still has the web site in question seeking donations HERE. According to documents examined Jesuit received $4,693,265 in donations designated for a "Katrina Fund." Jesuit's 2009–2010 President's Report states that the fund was set up to help pay for the extensive repairs and renovation to Jesuit's facilities. Jesuit officials then said these funds were not used for the repair and renovation purposes stated in the President's Report, but were used to offset revenue decreases after the disaster.

DHS Investigators found this setup violated Section 312(a) of the Stafford Act which states that no entity will receive assistance for any loss for which financial assistance has already been received from any other program, from insurance, or from any other source.

Here is a nice letter from the Jesuits thanking their contractor.

Also of note is the double payment for damage under insurance policies held by the school run by the Jesuits followed by no reimbursement to FEMA or the tax payers.

We imagine the Jesuits' meetings with the contractors looked something like this. (Warning Strong Language)

Jesuit High School is an all-male college-preparatory Catholic high school in New Orleans, Louisiana. The school was founded in 1847 by the Jesuits.

In 1967, Jesuit became the first high school in the country to have a Marine Corps Junior ROTC program. For several years, this program was mandatory for all students; the combination of Jesuit priests and Marine Corps JROTC instructors made the school's disciplinary system unique among American high schools. And the likely cause of psychological counseling for many survivors of that disciplinary regime.

That said Jesuit High has been the location of one public Jesuit abuser Claude P. Boudreaux SJ who later went on to India and Sri Lanka before going to hide in Rome at the Jesuit General Staff.

Also of note, Loyola University in New Orleans was the home of Bernard P. Knoth SJ of the Chicago Province who was President of the University (and formerly at Georgetown) before accusations of sexually abusing children and a NY Times article led to his downfall.


"This is a difficult time for everyone," Father Gschwend said. "We treat the victims with the greatest care and compassion when they come to us. We do the same with the one accused. It is a very difficult place for both of them to be."


Bernie Knoth SJ then disappeared down to Florida in a bizarre series of events which left him free to roam and escape justice.

For the 'Fortunate Son's' of St. Ignatius we have Creedence Clearwater Revival

Some folks are born, made to wave the flag

Ooo, their red, white and blue

And when the band plays "Hail to the Chief"

Ooo, they point the cannon at you, Lord

It ain't me, it ain't me, I ain't no senator's son, son

It ain't me, it ain't me, I ain't no fortunate one, no

Some folks are born, silver spoon in hand

Lord, don't they help themselves, y'all

But when the taxman comes to the door

Lord, the house looks like a rummage sale, yeah

It ain't me, it ain't me, I ain't no millionaire's son, no, no

It ain't me, it ain't me, I ain't no fortunate one, no

Yeah, yeah

Some folks inherit star spangled eyes

Ooh, they send you down to war, Lord

And when you ask 'em, "How much should we give?"

Ooh, they only answer "More! More! More!", y'all

It ain't me, it ain't me, I ain't no fortunate one, no, no, no