Cardinal George Announces New Pastor at St. Bernadette
By Hannah Kohut
Chicago Sun-Times
October 8, 2012

http://www.suntimes.com/news/15629318-418/cardinal-george-announces-new-pastor-at-st-bernadette.html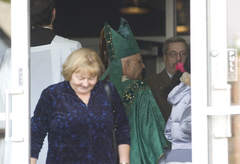 Cardinal Francis George (center) meets with parishioners after mass at St. Bernadette Sunday, Oct. 7, 2012, in Evergreen Park. George named the new pastor and officated mass. | Matthew Grotto~Sun-Times Media



Before a packed St. Bernadette Catholic Church in Evergreen Park on Sunday, Cardinal Francis George celebrated mass — and a new beginning for the parish.

The cardinal was there to announce the church's new pastor, who will take over for the former pastor, the Rev. Gary Miller. Miller resigned in June amid allegations of sexual abuse about 30 years ago, according to the Archdiocese of Chicago.

Cardinal George stressed to the estimated 500 people in attendance that the diocese does not take the allegations lightly.

"Even forgivable sins have consequences," he said during the mass. "Father Miller was taken out [of the church] because he crossed boundaries."

Cardinal George said he decided the best move for the parish was to bring in someone young and enthusiastic, who would help the church rebuild spiritually and announced that 31-year-old Rev. Benadykt Pazdan will be taking over effective Oct. 30.

"He's young [31], likes to play guitar and has been eager to have his own church," Cardinal George said to the congregation. "I feel you will shape him more than he will shape you."

Since July, Monsignor Wayne Prist has served as interim pastor for the parish and said he is equally as positive about the parish's future with Pazdan.

"I have grown to love these people and this place," Prist said. "This is a parish that really needs to be re-energized and revitalized. They've been wonderful in how they live their life; they are a real community."

Prist also said he was sent to St. Bernadette, by the cardinal, to make sure it was alive and well.

"I do feel they are ready to move on," Prist said.

For that reason, Prist said Cardinal George was eager to get the ball rolling and replace Miller sooner rather than later.

"We didn't want to drag this out for months," Prist said. "The place is in need of motion, we can't wait for six months of uncertainty."

Parishioner Cheryl Pinotti, who has been a parishioner at St. Bernadette for more than 20 years, said although she is eager to welcome Pazdan into her church family, she is sad to see Prist leave.

"Has been so much of a bridge builder in this time of transition," Pinotti said. "What a great shepherd of the Catholic church."

As far as the controversy goes, Pinotti said she was ready to move on.

"Sometimes out of the storm comes the sun," she said. "If there was no crucifixion, there would have been no resurrection. That's how I like to look at it."

After mass, the cardinal spoke about the spirit of the parishioners during this "difficult" time.

"It's a very difficult thing for a parish to go through, especially with an experienced pastor," Cardinal George said. "But Monsignor Prist has done a good job and was able to do a good job because of strong parish."

Cardinal George also said he was very proud of the people of St. Bernadette.

"They've gone through a very difficult process, and everything is still together," he said. "Fr. Pazdan will do well here; he connects to people and is a smart man. I'm sure he will do a good job."

The cardinal also thanked the congregation for their prayers as he battles cancer in his liver and kidney.

"When you're sick, you tend to be isolated," he said during mass. "Sometimes you forget to pray. I need your prayers, and I thank you for them."

As for how he was feeling Sunday:

"You know how chemo works, you have good days and bad days," he said with a smile. "But today was pretty good, so I am thankful for that."

According to the archdiocese, Miller has been accused of abusing a minor while assigned to St. Leonard Parish in Berwyn in the 1970s. The archdiocese's Independent Review Board determined there is reasonable cause to suspect that sexual abuse of a minor had occurred and recommended that Miller be withdrawn from ministry.

He was removed last month.