Case against Green Bay Diocese under Way in Nevada
Green Bay Press-Gazette
October 12, 2012

http://www.greenbaypressgazette.com/article/20121012/GPG0101/121012011/Case-against-Green-Bay-diocese-under-way-Nevada?odyssey=tab|topnews|text|GPG-News&nclick_check=1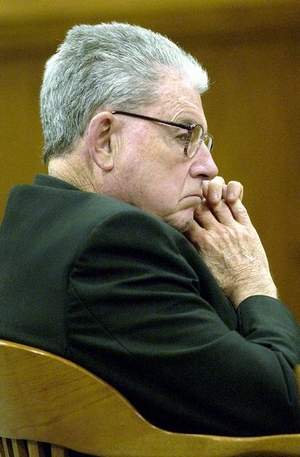 Former Catholic priest John Patrick Feeney listens during his 2004 criminal trial in Appleton on charges that he molested two Freedom brothers in 1978. / File/Gannett Wisconsin Media



A civil trial against the Catholic Diocese of Green Bay is under way in Nevada in a lawsuit filed by a man who says he was molested by the same priest at the center of a similar Outagamie County case.

Jurors heard opening statements Thursday in Las Vegas in the case against the Green Bay diocese and the Roman Catholic Bishop of Las Vegas. The lawsuit claims the diocese knew the Rev. John Feeney had a history of sexual misconduct and falsely portrayed him as safe even though church officials knew he was a danger to children.

Feeney was convicted in Outagamie County in 2004 and sentenced to prison on four sexual assault counts. Feeney assaulted brothers Troy and Todd Merryfield, ages 12 and 14, in 1978. He was transferred from the Fox Valley to Las Vegas in 1984, court records say.

The Merryfields, who attended religious education courses as children at Freedom's St. Nicholas Church, filed a civil lawsuit in Outagamie County against the diocese and were awarded $700,000 by a jury in May.

Judge Nancy Krueger, however, granted a new trial to the diocese after determining that a member of the jury was biased. That case will go to trial for a second time next year.

The man in the Las Vegas case says Feeney sexually assaulted him in 1984, when Feeney visited the family's home while serving the city's St. Francis De Sales Parish. The man's attorneys say the Green Bay diocese gave Feeney a good recommendation to the bishop there.

The Green Bay diocese misrepresented Feeney because it knew "Feeney had a history of sexually molesting children and that he was a danger to children," the Nevada civil complaint says.

John Pilmaier, director of Wisconsin's Survivors Network of those Abused by Priests, said the simultaneous civil cases against the Green Bay diocese illustrates how dioceses brushed aside allegations of sexual misconduct. Victims of clergy abuse in Wisconsin are paying attention to the Nevada case, he said.

"I think it's important, because it's an attempt to finally hold the diocese accountable," he said. "It shows one of the problems that's been at the center of this crisis. Pedophile priests weren't only transferred within their own dioceses, but also across the country and across international borders."

The man in the Nevada case hasn't specified how much he's seeking in punitive damages, awards handed down in civil cases as punishment for wrongdoing. The Merryfields, who were assaulted by Feeney during a visit to their home, dropped their claim seeking punitive damages, saying their civil lawsuit against the diocese was about bringing long-held secrets to light, not money.

Green Bay Bishop Aloysius Wycislo's knowledge of Feeney's illicit sexual background is a critical factor in both cases. Wycislo died in 2005.

Attorneys in the Nevada case included a 1983 letter to Feeney from Wycislo as evidence. In it, Wycislo says Feeney's transfer to another diocese "might be the answer to your problem."

"I am capable of forgetting about all this and writing a good letter of recommendation for you to a new bishop, and I hope and pray you will find one," Wycislo wrote.

The Green Bay diocese in a 2011 press statement vowed to fight each of the civil lawsuits.

"We will continue to fight the allegations of fraud against Bishop Wycislo because the allegations are false," the statement said. "We are confident that the truth will be articulated and the truth will bring justice."

Bishop David Ricken wrote an August letter to the Green Bay diocese's newspaper, "The Compass," in which he said allegations that Wycislo knew of Feeney's abuse are unfounded. The diocese admits that Feeney abused children, but claims he was not moved from parish to parish because of sexual misconduct, Ricken wrote.

Feeney was an outspoken and divisive man.

"When the divisiveness rose to an acute level, he was sent to a different parish with the hopes that he would learn from his past experiences and do better," Ricken wrote.