Northbridge Man Buys Oakhurst Retreat from Church
By Deborah E. Gauthier
Daily Voice
October 17, 2012

northbridge.dailyvoice.com/news/northbridge-man-buys-oakhurst-retreat-church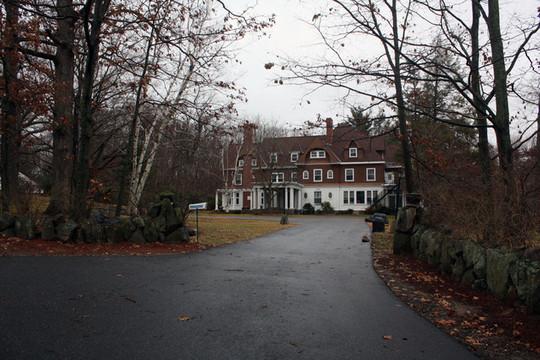 Oakhurst Retreat and Conference Center on Hill Street in Northbridge was purchased last week by Riverdale Mill owner James Knott



NORTHBRIDGE, Mass. – James Knott, owner of Riverdale Mills on Riverdale Street in Northbridge, confirmed Tuesday that he purchased Oakhurst Retreat and Conference Center on Hill Street.

The property has been owned by the Catholic Diocese of Worcester for many years and was formerly the House of Affirmation, a facility for troubled priests.

It has been a center of controversy since August when the church refused to sell the property to Alain Beret and James Fairbanks, a gay married couple from Sutton who planned to restore the mansion and host weddings and other social events there.

Church officials said they rejected the sale because the couple could not show solid financing; Beret and Fairbanks said the church backed away from their agreement after learning they were a gay couple and they are suing the church.

Knott said he paid $800,000 for the mansion, outbuildings and approximately 30 acres. His plan is to restore the historic 89-room mansion built by Chester Whitin Lasell in 1890. Lasell was president of Whitin Machine Works from 1887 to 1932 and the home's 44 bedrooms were used for mill workers.

He said he's hired a consultant to help him determine its best future use, perhaps as a conference center. "Once I have his suggestions in hand, I will move forward," he said, and he expects to have those suggestions within the month.

Knott said he will spend whatever needs to be spent to restore the mansion and grounds, but the property has been well-maintained and is in good condition.

This isn't the first historic home to be purchased by Knott. He bought a home at 1700 Hill Street, at the five corners. The house was built in 1735 on 1,000 acres given to the Adams family by one of the kings of England, Knott said.

"It was to be demolished. I bought it and am restoring it," he said. "It would have been a crime to destroy it. John Quincy Adams stayed there," Knott said.

The Riverdale Mill was also in terrible condition and slated for demolition when Knott purchased that property in 1979. He restored the mill building and now runs a successful coated wire business there.

He said he paid $87,500 for the mill and 75 acres, most of it wetland, and the property is now worth $10.1 million.