Boy Scouts and Catholic Church Were Inclined to Silence on Abuse: James Gill
By James Gill
The Times-Picayune
October 24, 2012

http://www.nola.com/opinions/index.ssf/2012/10/scouts_and_church_were_incline.html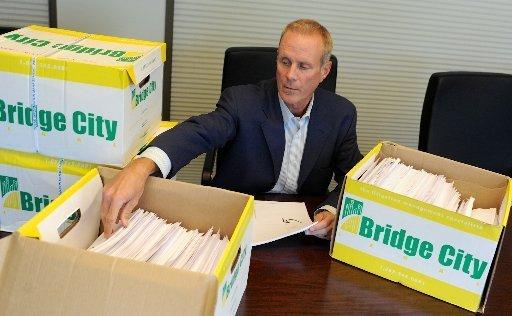 Portland attorney Kelly Clark examines some of the 14,500 pages of previously confidential documents created by the Boy Scouts of America concerning child sexual abuse within the organization, in preparation for releasing the documents Oct. 18. The Boy Scouts of America fought to keep the files confidential
Photo by Greg Wahl-Stephens


After Catholic priest Gilbert Gauthe was found to be a child molester in 1974, then-Lafayette Bishop Gerard Frey decided a change was in order. So the next year, Gauthe was assigned extra duties. He became chaplain of the diocesan Boy Scouts. Any pedophile would have whooped, and Gauthe took full advantage.

The Scouts, as their just-released "perversion files" prove, shared the Catholic Church's determination to shield criminals, sacrificing the innocence of young charges in a doomed attempt to maintain a wholesome public image.

Louisiana always figured prominently in the scandals that engulfed both institutions nationwide. Gauthe was the first to be unmasked in the endless succession of predatory priests who enjoyed years of episcopal protection. After Gauthe pleaded guilty in 1985, and was sentenced to 20 years in the state pen, Rev. Kenneth Doyle, spokesman for the U.S. Catholic Conference in Washington, said: "We don't want to give the impression that it's a rampant problem for the church, because it's not."

Then, New Orleans journalist Jason Berry, who covered the case, wrote a book predicting years of turmoil and multimillion-dollar court judgments against the church. You know who got that one right. The buggers were rampant for sure.

We can't say whether Bishop Frey at the time doubted the wisdom of consigning Boy Scouts to the care of a known pedophile, but news reports did offer plenty of clues.

In 1976, four adult Scout leaders were arrested in New Orleans for running a troop where underprivileged boys were recruited for sexual exploitation. It was the movement's first high-profile sex scandal in America.