St. Agatha's Priest on Administrative Leave Amid Sex Abuse Lawsuit
CBS Miami
October 25, 2012

http://miami.cbslocal.com/2012/10/24/st-agathas-priest-on-administrative-leave-amid-sex-abuse-lawsuit/

[with video]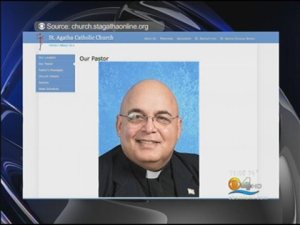 Fr. Rolando Garcia has been placed on administrative leave after a lawsuit was filed alleging sexual abuse was filed. (CBS4)



The Archdiocese of Miami has placed Father Rolando Garcia on administrative leave for the second time this year after a new lawsuit alleging sexual improprieties is filed against him and the church.

In August, an Archdiocese investigation into allegations the father abused a young man years ago resulted in the church closing its case and ruling the allegations were not credible. Still, that young man and his attorney proceeded to file suit.

This week, another man came forward claiming the father had abused him when he was a teenager.

The Archdiocese says placing the father on administrative leave for a second time is part of its internal process. The church will investigate these new claims and the father will remain off the job until the church's internal probe is complete.

The church says it knew nothing of these new allegations until the latest accuser and his attorney held a news conference on Tuesday to announce the filing of their lawsuit.