O'dea High School Principal Resigns Amid Sex Abuse Allegations
KOMO
October 31, 2012

http://www.komonews.com/news/local/ODea-High-School-principal-resigns-amid-sex-abuse-allegations-176692501.html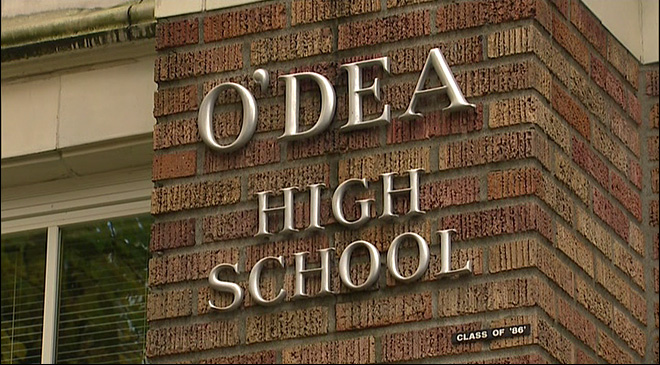 SEATTLE -- A local high school principal resigned Wednesday afternoon amid allegations of sexual abuse.



Officials from the Archdiocese of Seattle announced that Brother Karl Walczak had resigned his post as principal of O'Dea High School after accusations of sexual abuse came to light.

The allegations date back to the 1970s, when Walczak was a teacher at Brother Rice High School in Chicago.

Michael Reck is an attorney for the alleged victim and said Walczak sexually abused his client multiple times on Brother Rice school grounds.

Reck said his client is "extraordinarily concerned" that Walczak has abused other children.

"He's a very strong, very courageous person who is doing his very, very best to continue his life with this haunting him," Reck said of his client, who was a freshman when the alleged abuse occurred.

The victim, who wants to remain anonymous, came forward with the accusations three months ago.

"I really believe that the process of being able to seek some transparency and some justice and know that there are other kids who will hopefully be spared from what he went through helps him heal," Reck said.

Members of SNAP, the Survivors Network of those Abused by Priests, are outraged that parents weren't notified of the allegations sooner.

"It's our guess that Brother Walczak has possibly had a number of student victims in the United States and maybe here in Seattle," said SNAP's John Shuster.

In statement released Wednesday afternoon, the Archdiocese of Seattle said Walczak denies the allegations but will resign nonetheless.

According to a school website, Walczak was appointed principal in 2011 after spending time in schools in Illinois, California and Hawaii.

Vice principal Jim Walker will take over as acting principal at O'Dea.

SNAP will hold a rally Thursday at 11 a.m. at O'Dea.