Seattle High School Principal Resigns, Families Claim "Cover up"
My Northwest
October 31, 2012

http://mynorthwest.com/646/2077133/Seattle-high-school-principal-resigns-families-claim-cover-up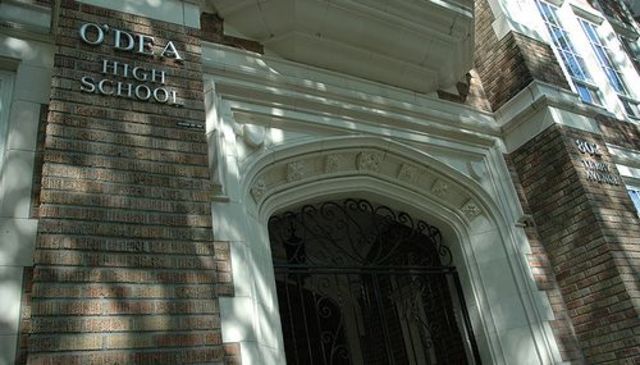 O'Dea High School is a Catholic boys' high school located on Seattle's First Hill. O'Dea is owned by the Archdiocese of Seattle and run by the Congregation of Christian Brothers. (Linda Thomas photo)



The principal of O'Dea High School in Seattle has resigned amid accusations of sexual abuse. An advocate's group says the school and the Archdiocese are trying to cover up the alleged abuse.

Brother Karl Walczak is accused of sexual abuse of a minor dating back to the 1970s, when he was a teacher at Brother Rice High School in Chicago.

Walczak denies the allegations.

"The O'Dea School Board learned today that Brother Walczak has been accused of sexual abuse of a minor," board chair Zachary Lell says. "Although Brother Walczak denies the allegations, he has resigned his position as Principal of O'Dea High School."

Members of SNAP - the Survivors Network of those Abused by Priests - are angry that parents weren't notified of the allegations sooner.

"Seattle archdiocese officials 'clammed up' instead of warning parents, reaching out to victims and protecting kids," John Shuster says in an emailed statement.

"In fact, the school had an open house yesterday, where they could have made an announcement, reached out to potential victims, and helped parents discuss abuse with their children. But yet, they kept quiet."

Walczak was removed from the school in August. Parents were told then he was being called upon to help resolve a claim filed in the Christian Brother's Institute bankruptcy proceeding.

The Christian Brothers have sought bankruptcy protection in light of more than 200 allegations of sex abuse at their schools.

O'Dea and the Seattle Archdiocese are not involved in the claims against the Christian Brothers.

"Despite ten years of promises of full transparency, Seattle Catholic officials have once again done everything in their power to keep mum about child sexual abuse," says Shuster. "This latest cover-up at O'Dea High School is just one more shameful example that puts our children in danger."

Vice Principal Jim Walker will take over as acting principal at O'Dea.

SNAP will hold a rally late Thursday morning at O'Dea.