SNAP Backs Negligence Finding in Feeney Civil Lawsuit
The Post-Crescent
November 3, 2012

http://www.postcrescent.com/article/20121103/APC0101/311030289/SNAP-backs-negligence-finding-Feeney-civil-lawsuit?odyssey=mod|newswell|text|FRONTPAGE|s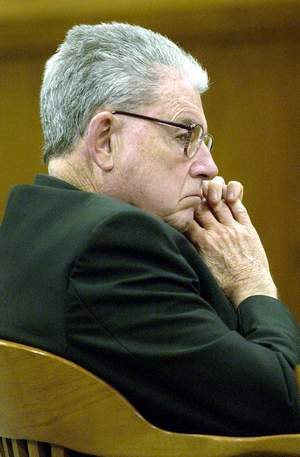 Former Catholic priest John Patrick Feeney in Outagamie County court. File/Gannett Wisconsin Media



A national organization that supports victims of clergy abuse has praised a verdict that ordered the Catholic Diocese of Green Bay to pay $500,000 in a civil lawsuit involving a priest accused of molesting a 13-year-old boy.

A Las Vegas jury ruled Thursday the diocese was negligent in transferring John Patrick Feeney to a Nevada parish where he allegedly molested the boy.

"The brave victim in this case, John Doe 119, is to be commended for holding the Green Bay Diocese accountable for concealing and facilitating decades of child sex crimes. Children in Nevada and Wisconsin are safer today because of his courage," a group called SNAP, the Survivors Network of those Abused by Priests, said in a statement released after the verdict.

The Green Bay Diocese will have to pay $500,000 in damages; the suit originally sought $5.1 million.

The man in the Las Vegas case says Feeney sexually assaulted him in 1984, when Feeney visited the family's home while serving the city's St. Francis De Sales Parish. The man's attorneys say the Green Bay diocese gave Feeney a good recommendation to the bishop there.

Following the verdict, the diocese's Deacon Tim Reilly, issued the following statement: "The Diocese of Green Bay reiterates its apology to all victims/survivors of clergy sex abuse and reaffirms its commitment to keep all children safe from any potential harm. We will continue to adhere to strict Diocesan policies for keeping children safe and will continue to be rigorous in their communication and enforcement."

The diocese will stand trial next May in Wisconsin involving the sexual abuse of Todd and Troy Merryfield in Outagamie County. The diocese is accused of concealing Feeney's history in that case.

An Outagamie County jury in May awarded the Merryfields $700,000. In July, Judge Nancy Krueger vacated the judgment and ordered a new trial based on the concern of potential bias on the part of one of the jurors.