Delbarton Sues Attorney, Claims Disclosing Sex Misconduct Lawsuit Was Confidentiality Breach
By By Ben Horowitz
The Star-Ledger
November 15, 2012

http://www.nj.com/morris/index.ssf/2012/11/delbarton_sues_attorney_claims.html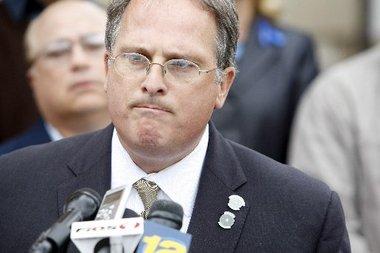 Attorney Gregory Gianforcaro speaks to the media as new Delbarton accusers hold a press conference outside the Morris County Courthouse in Morristown on June 5. Delbarton is suing Gianforcaro, saying he violated a confidentiality agreement.



MORRIS TOWNSHIP — The Delbarton School in Morris Township is suing an attorney it says violated a confidentiality agreement by publicly disclosing terms of a 1988 settlement of a lawsuit filed by a teenager who was a victim of sexual misconduct by a monk at the school.

The suit, filed in Superior Court in Morristown by the Order of St. Benedict of New Jersey, says attorney Gregory Gianforcaro of Phillipsburg "breached the agreement" made with a previous attorney when, among other things, he "trumpeted a seven-figure settlement" during a news conference June 29 outside the Morris County Courthouse in Morristown.

The suit filed by Delbarton accuses Gianforcaro of trying to "advance (his) own financial interests by attempting to improperly inflate the value of cases (he) has pending" against Delbarton and by trying to attract additional clients.

Gianforcaro also represents six other men who joined a lawsuit earlier this year alleging decades-old sexual abuse and/or sexual misconduct by Delbarton monks.

As part of the 1988 setttlement, the victim's real name remains protected as "John Doe." He attended but didn't speak at the June news conference.

"John Doe" filed a complaint that day asking to be released from the confidentiality agreement after the six others came forward. "John Doe" wanted to "join others who have spoken out against abuse at Delbarton," Gianforcaro said at the time.

At the time, Delbarton's attorney, Michael Critchley, said the school was "willing to consider the request."

However, Critchley said today that Delbarton chose instead to pursue a new complaint after learning what Gianforcaro had said at the news conference.

"Mr. Gianforcaro's earlier request for relief was merely a charade," Critchley said. "At his courthouse press conference, Mr. Gianforcaro had already improperly revealed the settlement terms, thereby granting himself the very relief he was purportedly seeking in his lawsuit."

Gianforcaro responded, "I don't think I did anything wrong, legally or morally. This is just retaliatory nonsense. They're trying to use this as a way to shift the focus from the victim to the lawyer."

The victim remains silent, Gianforcaro has said, because when the man previously asked in 2002 to be released from the confidentiality agreement, lawyers for Delbarton threatened to sue him for the return of the seven-figure settlement and to seek financial damages on top of that if he spoke out.

The victim wants Delbarton officials to abide by guidelines, adopted by the Catholic Church in 2002, that ban confidentiality agreements unless requested by sex-abuse victims, Gianforcaro has said.

Delbarton's suit seeks damages against Gianforcaro for breach of contract, interference with contractual relations and breach of duty of good faith and fair dealing.

Delbarton initially sought to file a sealed complaint in the case, but that request was denied Oct. 23 by Judge Stephan Hansbury. The complaint was made public today in Superior Court in Morristown.

"John Doe" was abused by the Rev. Timothy Brennan, who pleaded guilty to criminal sexual conduct in 1987, according to Gianforcaro. Prosecutors said he showed the victim pornography and urged him to masturbate in front of the monk. The victim was between 13 and 15 at the time, court papers said. Brennan was sentenced to six months in a facility for clergy offenders, a year's probation and a $30 fine. He is still a monk and resides in a secure facility where he has no contact with the general public, Anthony Cicatiello, a spokesman for St. Mary's Abbey, which oversees Delbarton, said in June.

Cicatiello did not comment on Delbarton's lawsuit today.

The recent chain of events started in January after an alumnus lodged allegations of sexual misconduct against Luke Travers, Delbarton's headmaster from 1999 to 2007. Other men stepped forward to make accusations against other monks.

Abbey officials have acknowledged "mistakes were made" in their handling of the incidents, but Cicatiello also said abuse allegations revealed through the media "limit the ability to investigate thoroughly or respond fairly."

All the accused monks are either separated from the abbey or are having no contact with minors, officials have said.