Accused Priest May Have Worked in Fulton As Counselor in 1980s
By Don Norfleet
Fulton Sun
November 15, 2012

http://www.fultonsun.com/news/2012/nov/15/accused-priest-may-have-worked-fulton-counselor-19/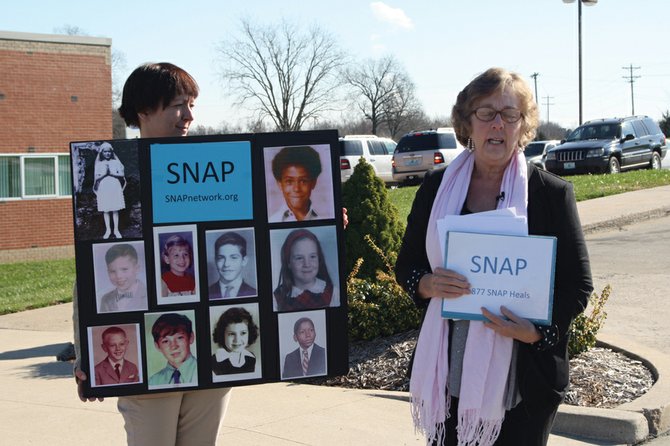 Lori Black of CARDV holds a sign of abuse victims while SNAP Midwest Associate Director Judy Jones, right, speaks at a press event Wednesday in front of the Callaway County Sheriff's Office. SNAP believes that a convicted sex offender, Gerald Howard, worked as a counselor during the '80s in Fulton, and urged anyone who knows when and where he worked to contact the authorities. Photo by Dean Asher.



A priest on trial in Boonville on charges of molesting children may have worked as a counselor in Fulton during the 1980s, a representative of the Survivors Network of those Abused by Priests (SNAP) said Wednesday in Fulton.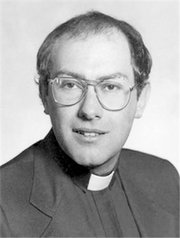 Gerry Howard, circa 1984



Judy Jones, SNAP midwest associate director, appeared in front of the Callaway County Sheriff's Office Wednesday morning to ask anyone in Callaway County who might have known of any sexual abuse by Gerald James Howard, the accused priest and counselor, to notify the Callaway County Sheriff's Office or Fulton Police.

Jones said she has not personally notified the Callaway County Sheriff's Office about the situation but she wanted to have the press conference in front of the Sheriff's Office to make sure that all of the department's officers and the public were aware of the potential earlier sexual abuse in Callaway County.

Jones produced a notarized statement by one of the parents of the boy who testified against Howard at his recent forcible sodomy and kidnapping trial in Boonville.

The woman's name in the notarized statement was blacked out to protect her and her son's identity, Jones said, because the sexual abuse victim did not want to be identified.

The woman's notarized statement reported that during the mid-1980's her son underwent counseling at the former Charter Hospital in Columbia where he was counseled by Howard. The woman reported she spoke with Howard about her son. She said Howard told her that he had a new job in Fulton working as a counselor.

Jones said this information about Howard working as a counselor in Fulton during the 1980s had not been known by SNAP previously.

Jones said it is important for anyone in Callaway County who knows of sexual abuse by Howard to come forward now because Howard may be released from jail soon.

Howard was indicted in April 2010 at Boonville in Cooper County on three counts of forcible sodomy, three counts of attempted forcible sodomy and two counts of kidnapping. The crimes were alleged to have occurred between March of 1984 and September of 1987.

After his indictment, Howard was arrested in Bloomfield, N.J., and extradited to Missouri to face the charges. He has been held in Cooper County Jail on a $1.5 million bond since that time. His trial started on Oct. 31, 2012.

To read the rest of this article, see the Thursday, Nov. 15, 2012 edition of either The Fulton Sun or the Jefferson City News Tribune for additional details.


Gerry Howard, 2012