Priest Rapes 12-Year-Old Girl
By Yogas Nair
The Iol
November 20, 2012

http://www.iol.co.za/news/crime-courts/priest-rapes-12-year-old-girl-1.1427172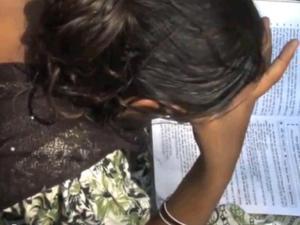 A priest visiting from India, has been convicted of rape after sexually grooming an epileptic girl under the pretence of healing.



KwaZulu-Natal - A priest visiting from India, who had sexually groomed a 12-year-old North Coast girl for two months on Skype by showing her images of the Kama Sutra, has been convicted of rape.

Adhyatma Adhyatma Amithananda, 57, a Hindu priest and self-proclaimed spiritual teacher, arrived in South Africa from Kerala in March 2010. He had been invited by religious leaders in oThongathi (Tongaat).

The victim's family met him at a local temple where he was delivering a religious discourse.

The girl had epilepsy with chronic seizures and the family had asked him to pray for her to cure her of her condition.

On Friday Amithananda was was found guilty on six counts of rape, two of sexual grooming, and for creating, publishing and possessing child pornography.

He had pleaded not guilty.

Nude images of the girl were recovered from his laptop by the police cyber crimes unit.

According to court documents, Amithananda had gained the confidence of the girl by telling her he wanted to pray for her to cure her of her medical condition.

The girl's first encounter with the priest was in June 2010, when Amithananda took her into the family's prayer room alone. He fondled the girl while rubbing sacred ash on her body, as part of the "healing process".

He told her if she told anyone about what he had done, the prayer would not work and something bad would happen to her family. He said his actions would cause the sickness to be transferred to him, the court papers read.

This act was repeated over many days, the girl told the court.

She said she did not report his actions to anyone – she was afraid something bad would happen to her family and she wanted to be healed.

In July 2010, Amithananda returned to India. But, he made contact with the girl via computer, on Skype, on the pretext of wanting to pray for her.

According to court papers, he would ask family members to leave the room so that there would be no disturbance while he prayed. Once the girl was alone, he would ask her to remove her clothing and underwear.

He would then show her pictures, believed to be from the Kama Sutra.

Amithananda told her this was to prepare her for the different things he would do to her when he returned to South Africa.

On his return in March 2011, the accused told the family he needed to move in with them to pray for the girl. The family allowed him to "pray" for the girl daily.

Over a two-month period he raped and sexually assaulted her.

On the night of April 18, 2011, after Amithananda had raped the girl, he had left a love-bite on her neck. The next morning her cousin saw the mark on her neck and told her aunt to question her about it.

At first the girl was reluctant to disclose where the mark had come from. But, after much coaxing, she revealed details about her sexual encounters with the priest.

She was immediately taken to a doctor and charges were lodged.

When they returned home Amithananda had fled.

He tried to flee the country, but was nabbed days later by police and has been in custody at Westville Prison since.

Amithananda's laptop was seized when he was arrested.

Warrant Officer Ashley Naidoo, of the SAPS cyber crimes unit, testified that the images of the victim had been created bearing the identification of "Adythyma" – the user which had saved images from Skype during a video call.

He told the court that the information stored on the hard drive of the computer could not be altered, amended or deleted.

Amithananda, represented by advocate Jay Naidoo, denied the charges against him. He told the court he was a spiritual teacher born and raised in India. He said he travelled the world imparting his teachings on yoga, meditation and lectures on the Hindu scriptures.

State advocate Sagra Subroyen, described Amithananda as a poor, evasive and lying witness.

Subroyen said the victim had revered the accused in the same likeness of God.

"She viewed him through the innocent eyes of a child." She said it was clear the evidence showed Amithananda had used his position of authority to induce fear by telling her that if she told anyone about what he had done, something ominous would befall her family."

Sentencing is scheduled for November 29.