Sovereign Grace Ministries Statement Sees First Amendment Threat in Lawsuit over Sexual Abuse
By Peter Smith
The Courier-Journal
November 27, 2012

http://blogs.courier-journal.com/faith/2012/11/27/sovereign-grace-ministries-statement-sees-first-amendment-threat-in-lawsuit-over-sexual-abuse/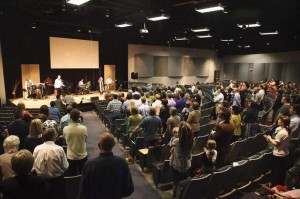 Sovereign Grace Ministries statement sees First Amendment threat in lawsuit over sexual abuse



Sovereign Grace Ministries — a church network that moved its headquarters to Louisville earlier this year — says in a recent statement that First Amendment religious-liberty protections would be threatened if a lawsuit succeeds in "allowing courts to second guess pastoral guidance."

The church's statement comes in response to a lawsuit filed Oct. 17 in Maryland — where the denomination was based for its first three decades until this year — on behalf of three plaintiffs the suit describes as victims of sexual abuse by members of Sovereign Grace churches in Virginia and Maryland.

The lawsuit seeks class-action status on behalf of other victims, citing "a culture in which sexual predators were protected from accountability and victims were silenced." It alleges elders at Gaithersburg, Md., and Fairfax, Va., churches intervened in cases in which members sexually abused minors. It alleges the pastors sought to minimize criminal penalties against the abusers and pressured victims to forgive their perpetrators.

The Sovereign Grace statement, issued by Director of Administration Tommy Hill, notes that no pastors are accused of abuse in the lawsuits and that the abuse did not take place on church property. At issue is how the church elders responded.

"SGM leaders provided biblical and spiritual direction to those who requested this guidance," the church said. "This care was sought confidentially, as is a right under the First Amendment. We are saddened that lawyers are now, in essence, seeking to violate those rights by asking judges and juries, years after such pastoral assistance was sought, to dictate what sort of biblical counsel they think should have been provided."

The church said that "allowing courts to second guess pastoral guidance would represent a blow to the First Amendment, that would hinder, not help, families seeking spiritual direction among other resources in dealing with the trauma related to any sin including child sexual abuse."

It added that "child sexual abuse is reprehensible in any circumstance, and a violation of fundamental human dignity. We grieve deeply for any child who has been a victim of abuse."

The statement said Sovereign Grace lawyers are preparing a formal response. "It appears the complaint contains a number of misleading allegations, as well as considerable mischaracterizations of intent," it said.

Washington lawyer Susan Burke, representing the plaintiffs, declined to comment. The lawsuit alleges there were other cases of mishandled abuse besides those involving the three plaintiffs. The plaintiffs are young women who are not identified by name in the lawsuit. The lawsuit says two of the plaintiffs were sexually abused as young girls and that the third was shunned by her church, as was her family, for refusing to seek leniency for her sister's assailant.

An advocate for victims of clergy sexual abuse contended that Sovereign Grace's defense on First Amendment grounds is built on "sinking sand."

Christa Brown of StopBaptistPredators.org, which primarily focuses on abuse in Baptist churches, said courts often give only narrow protections to clergy-penitent confidentiality in cases involving child sexual abuse.

"The courts typically consider that civil society has a compelling interest in protecting the welfare of children," she said. "So, even if the counseling provided by Sovereign Grace Ministries were religiously motivated, the privilege would still not be absolute."

She added: "Merely because something may be legally possible doesn't make it morally right."

Sovereign Grace' headquarters — which has about 90 churches worldwide, most in Atlantic coast states — and its longtime president, C.J. Mahaney, came to Louisville after more than a year of controversies that are still playing out in the denomination. Critics, including former pastors, have accused the ministry leaders of probing into members' personal lives and shaming and sometimes ostracizing them for real or perceived sins while those at the top avoided accountability.

Sovereign Grace also launched its first congregation in Louisville, meeting at Christian Academy's English Station campus.

Mahaney has been prominent in the New Calvinist movement, popular in some Southern Baptist circles and other denominations. Mahaney and Albert Mohler, president of Southern Baptist Theological Seminary in Louisville – itself an epicenter of the Calvinist movement — have regularly shared podiums at conferences linked to the movement. The movement emphasizes God's all-powerful role in human events, including determining who is saved. Other emphases of the movement include male authority in homes and churches and tightly disciplined congregations where preaching is central.

Sovereign Grace leaders said one reason for moving to Louisville was to strengthen its bonds with the seminary, and on Nov. 14 Sovereign Grace announced a cooperative agreement in which its pastors-in-training can apply some credits from the denomination's own Pastor's College, which also moved to Louisville, toward a master's of divinity degree from Southern.

Earlier this year, a report by the independent conflict-resolution group Ambassadors of Reconciliation said that while many had benefited from involvement in Sovereign Grace churches, others had been hurt by the movement's focus on correcting members' sinfulness.

Estranged members saw an "over-emphasis of the teaching about sin without the balance of God's grace," leading some to be overly judgmental or despondent, the report said.

The lawsuit alleges that abuse was able to occur in an insular and authoritarian church culture in which members submitted to pastors' instructions in how to parent and where to work and live. It was in that submissive environment, the lawsuit said, that that parents would turn to church elders for help when they learned their children were being sexually abused.

The lawsuit alleges the church taught "members to fear and distrust all secular authorities, and expressly directed members not to contact law enforcement to report sexual assaults."

One of the churches identified in the lawsuit — Covenant Life Church in Gaithersburg, Md. — is the former flagship church of the denomination. Mahaney and his successor and one-time protege, Joshua Harris, have acknowledged a growing distance between them during the controversies, and Covenant Life spokesman Don Nalle said it has been evaluating its relationship with Sovereign Grace in a confidential, internal process.