Churchill Priest Given 8-Year Prison Sentence for Child Pornography Charges
The Wpxi
January 2, 2013

www.wpxi.com/news/news/local/suspended-churchill-priest-faces-fed-child-porn-se/nTkQ4/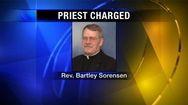 Rev. Bartley Sorensen



[with video]

PITTSBURGH —

A suspended Churchill priest will serve more than eight years in prison for possessing and receiving thousands of images of child pornography on his church computer.

A federal judge on Wednesday sentenced the Rev. Bartley Sorensen to 97 months behind bars.

The judge also sentenced Sorensen to five years supervised release. He was also ordered to pay a $25,000 fine.

Sorensen's attorney, Patrick Thomassey, had contended that Sorensen obtained the images for himself and never molested a child. Thomassey argued in court filings that the mandatory five-year sentence he faces is sufficient

"There is no evidence of file-sharing or swapping and there is no evidence that Sorensen ever engaged in any improper conduct with a child," Thomassey wrote in a presentence motion. "Sorensen cooperated with investigating agents and told them how he accessed the child pornography."

Sorensen, 63, pleaded guilty in May, when he told Senior U.S. District Judge Alan N. Bloch that he was undergoing weekly psychiatric counseling.

Sorensen was assigned to the St. John Fisher parish in Churchill when an employee called the Catholic Child Abuse Hotline after seeing the priest allegedly looking at an image of a young boy wearing only a shirt under the caption "Hottie Boys" on Dec. 9, 2011.

Allegheny County detectives found more than 5,000 images on three CDs taken from his church-owned residence and seized a digital camera, other CDs and DVDs, books and photo albums. Federal prosecutors took over the case and indicted Sorensen in January.

Immediately after his guilty plea, Thomassey said, "It's draconian that people go to jail just for possessing this stuff."

Pittsburgh Bishop David A. Zubik suspended Sorensen after his arrest and said in a statement at the time, "There is no way to understand, yet alone excuse or talk around compulsions involving children."

A police affidavit said the employee reported seeing the image of a boy who appeared to be 5 to 10 years old, posing on all fours. The employee told investigators Sorensen spent "hours upon hours" on his computer alone in his office. Sorensen had been transferred to the parish three weeks earlier.

Assistant U.S. Attorney Craig Haller has acknowledged that Sorensen cooperated with investigators -- but only after first claiming he had visited the website because a parishioner asked him to check it out because the parishioner caught his daughter viewing the site. Haller said the priest eventually acknowledged searching online for such images for about 10 years, saying he preferred images of boys in their early teens but sometimes viewed them as young as 4.