Former Widener Dean Had Abuse Settlement in the Past
By Susan Snyder and John P. Martin
Philadelphia Inquirer
January 4, 2013

http://articles.philly.com/2013-01-04/news/36150970_1_widener-officials-franciscans-accusation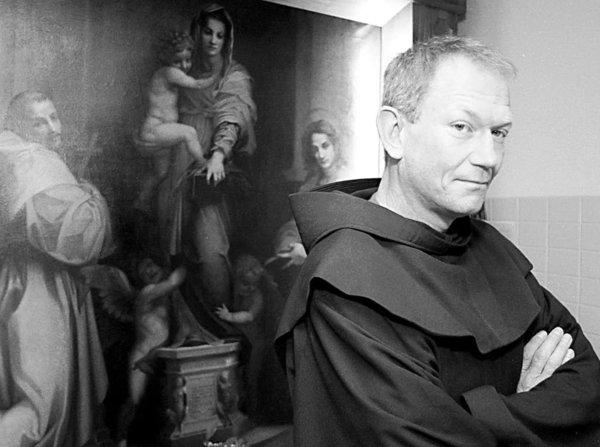 Michael Ledoux , shown in 2001, is now living at a Franciscan facility in New York and…



[Audit Records: Diocese of Manchester and New Hampshire Attorney General - summary audit records on LeDoux - BishopAccountability.org]

[case file - BishopAccountability.org]

[Audit Records: Diocese of Manchester and New Hampshire Attorney General - entire Manchester audit archive - BishopAccountability.org]

A Widener University dean who is also a Franciscan priest resigned in July after school officials learned he had been accused of sexually abusing a teenage boy in the 1980s.

Michael Ledoux, 55, had worked at Widener for nine years, and in recent years supervised student teachers at the Widener Partnership Charter School, which has students from kindergarten through the seventh grade.

The accusation was reported in 2003 to church officials in New Hampshire, where Ledoux served more than two decades ago. Widener officials learned about it this past summer through a tip.

University president James T. Harris III told Ledoux he was placing him on administrative leave pending an investigation but Ledoux chose to resign, Widener spokesman Dan Hanson said. The university has found no evidence of complaints or improper behavior during Ledoux's tenure there, Hanson said.

Story continues below.

The accuser never pressed charges or pursued a lawsuit, but there was a settlement. Reached by e-mail, Ledoux, who now lives at a Franciscan facility in New York, declined to discuss the matter but maintained his innocence.

His case illustrates a thorny issue for schools, communities, and religious orders around Philadelphia and the country in the decade since the clergy sex-abuse scandal exploded. Credible allegations emerged against hundreds of priests or former priests, but more often than not, the accusations were too old to be prosecuted or litigated.

Many accused clerics had spent years or decades in or around schools, and were competent educators. Like other religious orders, the Franciscans run dozens of schools nationwide.

For universities, the issue is especially problematic in the aftermath of the Pennsylvania State University scandal involving Jerry Sandusky. Penn State faces multiple civil claims after the former assistant football coach was convicted of abusing 10 boys on and off campus.

Ledoux was hired by Widener in September 2003, less than a year after a lawyer representing his accuser told church officials and police in New Hampshire that the Franciscan abused the teen between 1986 and 1989, when he was associate pastor at St. Thomas Aquinas in Derry.

The Franciscans found his claim credible, and assured the victim and his lawyer that the priest would be stripped of his public ministries, according to Jim Geoly, a Chicago attorney for the Franciscan Province of the Immaculate Conception. Geoly also said the Franciscans intended to restrict his access to minors.

That year, Ledoux ended up working at Widener with educators who knew nothing about his past.

Geoly said the Franciscans concede they should have made Widener aware of the accusation against Ledoux. He also noted that Widener did not seek information from the Franciscans before hiring him.

"They're sorry," Geoly said of his clients. "They acknowledged this was not done well. They understand now it would have been better if they had reached out to the university."

Story continues below.


Widener had no knowledge of the accusation against Ledoux until it received a tip last summer, Hanson said. Widener conducted a criminal-background check before Ledoux was hired and a child-abuse check when he became involved in the charter school, Hanson said. Both showed no problems, he said.

The allegation against Ledoux is cited in records compiled by the Diocese of Manchester, N.H. Those records were made public in 2009 and have since been posted on BishopAccountability.org, a website that catalogs records and allegations related to clergy sex abuse.

According to the site, a man in January 2003 reported that Ledoux performed oral sex on him once in the late 1980s and tried to other times in New Hampshire and Massachusetts.

Geoly said the boy was in the latter part of high school at the time of the alleged abuse.

Ledoux, who after leaving New Hampshire served as a high school and college administrator in Western Pennsylvania, denied the claim to The Inquirer. But the Franciscans found his accuser "credible," their lawyer said.

"We believed him. We took him at his word," Geoly said.

The man agreed to settle the case without legal action.

His lawyer, Carmen L. Durso, declined to discuss details of the settlement, but said the Franciscans assured his client that Ledoux would be assigned to a facility that serves aging members of the religious order and would have no access to minors.

"The only condition under which he was to leave that facility is if he was accompanied by someone else from the order," Durso said last week.

Instead, Ledoux landed at Widener as an assistant professor of education.

Geoly said Ledoux pursued the position on his own.

"I'm disappointed to hear this was handled this way. I thought the Franciscans were doing a better job than anybody else I had dealt with," Durso said. "If they had done what they said they were going to do, it would have been ideal."

Widener is not a religious institution, and Ledoux's job was not a Franciscan appointment. He did not wear a friar's robe or priest's collar on the job.

He later became director of Widener's center for education and associate dean of the School of Human Service Professions. He most recently was acting dean of the relatively new School of Education, Innovation and Continuing Studies.

Since leaving Widener, Ledoux has been confined to a Franciscan monastery in Catskill, N.Y., and will have no access to minors, Geoly said. Were he to leave, he could be dismissed from the order, Geoly said.

Story continues below.

"While there, if people from the public come on the property, he is not to have anything to do with them," Geoly said. "He literally cannot function as a priest in public."

In an e-mail to The Inquirer, Ledoux proclaimed his innocence.

"Although I would love to speak with you about my innocence in regard to the initial accusation, my clear child abuse and criminal records required for PA educators, and my vigilance in the safety and protection of children, my legal counsel has advised me against it," Ledoux wrote.

Rocco P. Imperatrice III, the lawyer who reviewed the matter for Widener over the summer, emphasized that Ledoux's responsibilities in connection with the charter were only administrative.

"He was never allowed unsupervised contact with any minor student," Imperatrice said. "His contact at the charter with any students would have been almost none."

Imperatrice said he interviewed all administrators and supervisors who had contact with Ledoux. He also talked with Derry police and the New Hampshire Attorney General's Office.

The university did not make charter school parents aware of the allegation because there had been no evidence of a complaint or problem, he said.

"If there had been an allegation or a suspicion or a complaint, that would have most certainly been done," Imperatrice said.

Widener officials declined to comment on what action they would have taken if Ledoux had not resigned. Imperatrice said the situation in general is difficult.

"Obviously for all colleges and universities, any institution of higher education, given today's social and political climate, there has to be a zero tolerance for individuals who have allegedly committed these types of offenses," he said.

Ledoux, Imperatrice said, should have disclosed the allegation to Widener during the hiring process.

Ledoux apparently moved to the area in 2000 when he took a job at Neumann University in Aston. He served as an associate professor and director of the Neumann Institute for Franciscan Studies from August 2000 to May 2002, said Steve Bell, Neumann's spokesman.

Neumann gave very positive references for Ledoux, according to Widener officials.

Bell, the Neumann spokesman, said Neumann had not been aware of the allegation against Ledoux.

The case illustrates that relying on criminal background checks when looking at the record of a priest or former priest may not be enough.

"Ninety percent, maybe even a higher percentage, of people who are perpetrators in the cases I'm involved in don't have a criminal record," Durso said.



Contact: ssnyder@phillynews.com