Evidence Shows Bold L.A. Priest Abuse Cover-up
By Bill Whitaker
CBS News
January 22, 2013

http://www.cbsnews.com/8301-18563_162-57565286/evidence-shows-bold-l.a-priest-abuse-cover-up/

There is new evidence that leaders of the Catholic Church in Los Angeles maneuvered secretly to shield priests accused of sexually abusing children.

Documents just released indicate they never told parishioners -- or the police -- what they knew.

"What we're seeing in these files is but a glimpse into a very, very dark, and endless tunnel of secrecy, of abuse, of silence," said Raymond Boucher, a former altar boy and current lead attorney, representing some 500 victims of sex abuse by priests in the archdiocese of Los Angeles.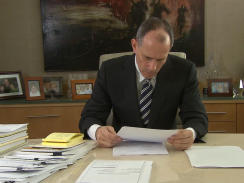 Raymond Boucher



The documents offer the strongest evidence yet of a cover-up that reached to the very top of Los Angeles clergy: Then-archbishop, now-retired Cardinal Roger Mahony.

"That has always been paramount for the church for decades: Protect itself from scandal," Boucher said.

Many of the documents are correspondence between Mahony and Monsignor Thomas Curry, his chief adviser on sex abuse. One concerns whether to allow Monsignor Peter Garcia to return to his duties in L.A. He had secretly been sent away for treatment in New Mexico for sexually abusing as many as 17 youngsters.

No one in the church hierarchy alerted authorities.

Mahony wrote on July 22, 1986: "I believe if Monsignor Garcia were to reappear here within the archdiocese we might very well have some type of legal action filed in both the criminal and civil sectors. Signed, sincerely yours in Christ, most reverend Roger Mahony."

Monsignor Curry concurred: "There are numerous - maybe 20 - adolescents or young adults that Peter Garcia was involved with in a first degree felony manner. The possibility of one of these seeing him is simply too great."

Cardinal Mahony issued this statement Tuesday to the victims: "I pray for them every single day."

It ends simply: "I'm sorry."

Victims held a press conference Tuesday. Manny Vega says was abused from age 10 to 15.

"Conscious, clear decisions were made to hide these priests and move them around and never, never did they consider the well-being of the children that they destroyed and left behind," Vega said.

Monsignor Garcia has passed away, and Monsignor Curry did not respond to requests for comment from CBS News.

As many as 30,000 more documents from the archdiocese sex abuse settlement are to be released in the coming weeks.