Friar Who Once Served Pittsburgh Diocese Accused of Sex Abuse in N.H.
By Jason Cato
The Tribune-Review
January 24, 2013

http://triblive.com/news/allegheny/3348862-74/ledoux-diocese-catholic#axzz2ItD2RWnQ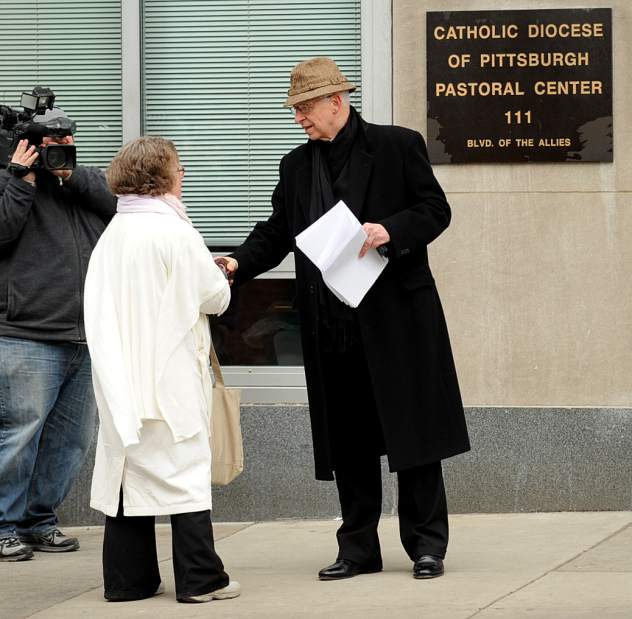 Father Ron Lengwin shakes hands with Judy Jones, of SNAP (Survivors Network of those Abused by Priests,) in front of the Diocese of Pittsburgh building, Downtown, Wednesday, January 23rd, 2013. Jones had addressed the media about a priest who resigned from his position near Philadelphia after reports accused him of reportedly molesting a child. The priest had previously worked in Pittsburgh. Keith Hodan | Tribune-Review



The Catholic Diocese of Pittsburgh this week notified parishes and alumni of a high school that a priest who worked there is accused of sexual abuse.

The Rev. Michael Ledoux, 55, a Franciscan friar, served as pastor of St. Pamphilus in Beechview from 1993-95; headmaster of Serra Catholic High School in McKeesport from 1995 to 2000; and worked as an adjunct professor at Duquesne University from 1997 through 2000.

The Philadelphia Inquirer reported this month that Ledoux resigned in July as a dean at Widener University in Chester because school officials learned of a 2003 allegation that he sexually abused a teenage boy in the 1980s in New Hampshire.

Ledoux could not be reached for comment.

Diocesan officials in Pittsburgh learned about the allegations when the Philadelphia newspaper published its story, said the Rev. Ronald Lengwin, diocese spokesman.

"Do we want people to come forward? We sure do," Lengwin said. "We share the concern that children could have been abused."

The diocese received no allegations of wrongdoing against Ledoux, said Lengwin.

Chicago-based Survivors Network of those Abused by Priests, or SNAP, urged the diocese on Wednesday to seek and notify possible victims.

"Child predators rarely if ever abuse just one," said Judy Jones, SNAP's Midwest associate director.

Diocese and Serra Catholic officials on Tuesday mailed letters to people who attended the school during Ledoux's tenure. They ask that anyone harmed by Ledoux or who knows someone who was to come forward.

St. Pamphilus and St. Angela Merici, where he volunteered while at Serra Catholic, will post similar notices in bulletins.

Ledoux taught education courses at Duquesne, where he earned a doctorate in 1999, said university spokeswoman Bridget Fare.

"We had no complaints in the time he was here," Fare said, "or any other time."

Ledoux's position as Serra Catholic headmaster ended in 2000, when his Franciscan order ended its 40-year service at the school.

"I'm at peace because I'm doing what my superior asked," Ledoux told the McKeesport Daily News at the time.

Ledoux joined Widener University's staff in September 2003. In recent years, he supervised student-teachers at Widener Partnership Charter School, which has grades K-7, the Inquirer reported.

Widener officials reported receiving no complaints.

A lawyer representing the New Hampshire accuser contacted church officials in January 2003, saying that Ledoux sexually abused a teen boy in 1987 or 1988. A Catholic Diocese of Manchester, N.H., report states that Ledoux's Franciscan order learned of the allegations in 2002.

The diocese forwarded the complaint to the New Hampshire Attorney General's Office. Authorities never filed charges.

Franciscan officials made an undisclosed payment to the accuser and assured him that Ledoux would be kept from young people by being assigned to serve retired priests in New York, said Boston attorney Carmen Durso. "We believed he was going to a medium-security monastery."

Jason Cato is a staff writer for Trib Total Media. He can be reached at 412-320-7936 or jcato@tribweb.com.