Two Defendants Elect Not to Testify in Archdiocese Sex Abuse Case
By Ralph Cipriano
Big Trial
January 24, 2013

http://www.bigtrial.net/search/label/Archdiocese%20Sex%20Abuse%20Trial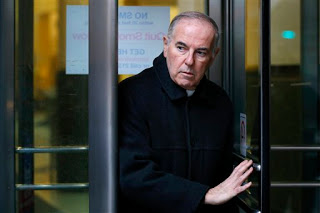 Engelhardt



The court crier swore in Father Charles Engelhardt and Bernard Shero as witnesses.

Judge Ellen Ceisler then asked if the two defendants were electing not to testify on their behalf at the Archdiocese of Philadelphia sex abuse trial.

Both defendants confirmed they had decided to take a pass.

The judge asked if either man was on drugs or alcohol, or prescription medications, or was mentally disoriented in any way.

To each of these three questions, each defendant replied, "No, Your Honor" three times. The judge assured both defendants that she would instruct the jury to draw "no adverse inference" from their decision not to testify.

After the two defendants testified, the defense today closed out its case with five more character witnesses on behalf of Father Engelhardt. The prosecution called a rebuttal witness, a cousin of the priest who said that Engelhardt had a "horrible reputation" in the community, without any explanation of what he was alluding to. Then it was on to the first closing statement from Burton A. Rose, on behalf of Bernard Shero.