Retired Cardinal Roger Mahony Relieved of Public Duties
By Susan Abram and Barbara Jones
Redlands Daily Facts
February 1, 2013

http://www.redlandsdailyfacts.com/news/ci_22494039/retired-cardinal-roger-mahony-relieved-remaining-public-duties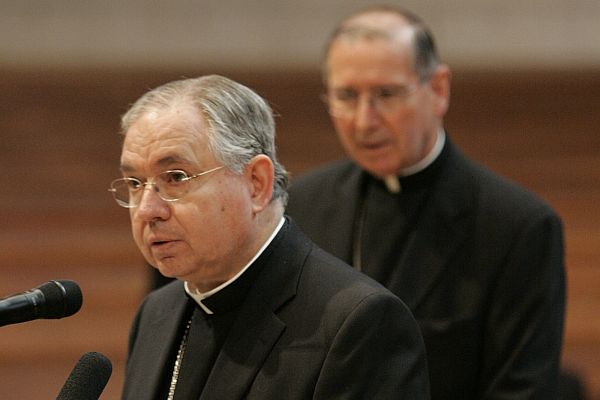 In this Los Angeles Daily News file photo, Archbishop Jose Gomez, forefront, greets media at the Cathedral of Our Lady of Angels in Los Angeles. Then Los Angeles Archbishop Roger Mahony is in the background. Los Angeles Archbishop Jose Gomez has relieved retired Cardinal Roger Mahony of his remaining duties, on the same night the church released thousands more files on priest sexual abuse. Gomez released a statement Thursday Jan. 31, 2013, saying he has told Mahony he will no longer have any administrative or public duties. (David Crane/Staff Photographer)



Cardinal Roger Mahony, who has stood at the center of the Los Angeles Archdiocese clergy sex abuse scandal after mounting evidence showed he shielded pedophile priests from law enforcement, has been relieved of all public duties, Archbishop Jose Gomez announced late Thursday.

Gomez's unexpected announcement came as the archdiocese, under court order, released some 12,000 documents from the internal personnel files of priests accused of sexual abuse.

"Effective immediately, I have informed Cardinal Mahony that he will no longer have any administrative or public duties," Gomez said in a written statement.

He also said auxiliary Bishop Thomas Curry, who served as Mahony's vicar of clergy and his point person on sex abuse cases, has stepped down as regional bishop of Santa Barbara.

"I have accepted his request to be relieved of his responsibility," Gomez said.

Gomez's announcement was his first public response since files released last week revealed how Mahony and Curry maneuvered behind the scenes to shield 14 molester priests, provide damage control for the church and keep parishioners in the dark about sexual abuse in their parishes.

A judge on Thursday ordered the archdiocese to release the confidential personnel files of scores of pedophile priests, clearing the way for thousands of pages of unredacted documents to be made public, according to attorneys for the victims.

The archdiocese released 124 personnel files made available to the public at clergyfiles.la-archdiocese.org/listing.html.

"Of this number, 82 files have information on allegations of childhood sexual abuse and 42 files have no information on allegations of childhood sexual abuse but, in those instances, the 'proffers' are being provided," the archdiocese said in a written statement.

Proffers are summaries of personnel files, prepared for litigation that describe some of the documents in that file, according to the archdiocese.

Initially, Superior Court Judge Emilie Elias directed the nation's second-largest archdiocese to hand over confidential files of 89 clergy accused of abuse by Feb. 22.

A record $660 million settlement reached in 2007 set the stage for the release of the personnel files, which contain letters among top church officials, accused priests and archdiocese attorneys, complaints from parents, medical and psychological records and - in some cases - correspondence with the Vatican.

While the archdiocese had promised to release the files, it fought for years to withhold the names of church leaders.

Retired Judge Dickran Tevrizian ruled last year that the archdiocese could black out the names of high-ranking clergy who had reassigned abusive priests, along with the names of clergy accused of abuse only once.

But The Associated Press and the Los Angeles Times joined with victims in challenging Tevrizian's decision. Elias overturned it and said the public was entitled to the information.

The archdiocese proposed releasing the documents with the names redacted but with a cover sheet attached to each file listing the names of church leaders who handled the case. But it abandoned that plan, saying it will include the names of any bishops, vicars for clergy and supervisory parish priests in the documents.

"We have chosen to remove redactions of those key individuals on every document," J. Michael Hennigan, attorney for the archdiocese, said in an email to The Associated Press. "There will be no ambiguity."

Mahony served as archbishop of the Los Angeles Archdiocese from 1985 until his mandatory retirement at age 75 in 2011. He has had no administrative duties since then, but now he will no longer participate in speaking engagements and other public appearances, said archdiocese spokesman Tod Tamberg.

He will, however, be allowed to perform some priestly duties.

"He can still perform in the liturgy and Sacraments," Tamberg said. "He's still considered a priest in good standing."

Joelle Casteix, western regional director of Survivors Network of those Abused by Priests, called Mahony's relief from some duties "too little too late," because the archdiocese had full knowledge of the scope and scale of Mahony's role in covering up sexual abuse.

"This is not enough, because the documents they are releasing is nothing compared to the entirety of sexual abuse in the Archdiocese of Los Angeles. Mahony and Curry need to be reprimanded by Rome. It is our hope that law enforcement comb through every document to see if charges can be filed."

Attorney Anthony DeMarco, who represented half of the 500 victims as part of the lawsuit, agreed with Casteix.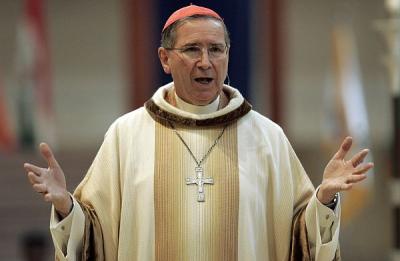 In this Sept. 22, 2007 file photo, Cardinal Roger Mahony speaks during an annual multi-ethnic migration Mass at the Cathedral of Our Lady of the Angels in Los Angeles. Los Angeles Archbishop Jose Gomez has relieved retired Cardinal Roger Mahony of his remaining duties, on the same night the church released thousands more files on priest sexual abuse. Gomez released a statement Thursday Jan. 31, 2013, saying he has told Mahony he will no longer have any administrative or public duties. (AP Photo/Reed Saxon, File)



"There's nothing new that Archbishop Gomez knows today that he didn't know since he took office," DeMarco said. "The only reason those two have been removed today is because of the public disclosure of their wrongs. It's through the courage of the survivors - the abused - that this level of accountability is finally starting to happen."

Attorney Raymond P. Boucher, another lead attorney for the victims, said he found the contents of the files very disturbing.

"It's numbing to see the human devastation and destruction that took place, often needlessly," Boucher said. "The files will provide more evidence of a church concerned about protecting its own image and failing to take any steps to protect children from irreparable harm."

He also said many more files have yet to be seen.

Gomez called the documents "brutal and painful reading."

"The behavior described in these files is terribly sad and evil," Gomez said. "There is no excuse, no explaining away what happened to these children. The priests involved had the duty to be their spiritual fathers and they failed."

Staff Writer Mariecar Mendoza contributed to this report.

Contact: susan.abram@dailynews.com

818-713-3664